Website volunteer wins Silver Surfer award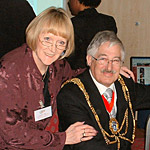 From a private collection
18th September 2006
One of our volunteers, Jennifer Drury, has today been awarded the runner-up prize in the national Silver Surfer awards in recognition of her outstanding contribution to this website.
Over the last 12 months, 60 year old Jennifer, has coordinated the work of 20 volunteers and contributed directly to the redesign of the site.  Jennifer says, 'This has been a hugely ambitious project. I have been working 10 hours a day for the last 4 months, snatching meals between work. Now looking at the finished design, I feel so proud of what we have achieved. It is very satsifying to have made such an important contribution to the city I love.'
The Silver Surfer awards (www.silversurfer.org.uk) are part of a program by Age Concern England and Digital Unite who have partnered to help tackle the growing problem of digital exclusion of older people in the UK.  In awarding the accolade to Jennifer, they said that although she makes extensive use of the Internet, 'What has marked her out as a deserving runner-up is her contribution to the community website www.mybrightonandhove.org.uk for which she is volunteer coordinator. My Brighton and Hove is one of the largest contributory heritage sites in the country and is purely run by volunteers. Jennifer sub-edits many of the pages and has mastered the content management system used by the site, so that she can train others to use it. She says that is a rather amusing scenario when a 23 year old is taught internet skills by a pensioner like her!'
See more at http://www.silversurfer.org.uk/silver_surfer_of_the_year_ru.html
Congratulations Jennifer!