Best Community Site for the third consecutive year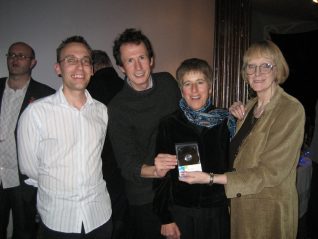 From the private collection of Ian Grant
My Brighton and Hove has been awarded 'Best Community Site' in the 2006 Web Awards which are part of the Brighton Virtual Festival.  At an ceremony at the Fabrica Gallery, Jack Latimer, the founder of My Brighton and Hove, accepted this prestigious award on behalf of the volunteer group.
Previous successes
Previously we have won this prestigious award in 2002, 2004 and 2005, and were runners up in 2001 and 2003.  It is a terrific achievement to have been successful again this year.  Our record of success is unequalled in the history of these awards which are now in their sixth year.  The Web Awards celebrates the creative talent behind local websites and recognises the effort put into creating good looking, interesting and user friendly sites.  Sites are nominated for inclusion in the awards and shortlisted sites are chosen by a panel of industry experts.
Your continuing support
Congratulations and thanks are due to the team of volunteers who have designed, constructed, and continue to maintain the website.  But – without the continuing support of online visitors, and regular contributions of memories and experiences of our city, My Brighton and Hove would not be the success it is today.  So we hope that we can continue to enjoy your support in the future and please keep those contributions coming in.
Thanks again
The My Brighton and Hove Volunteer Team