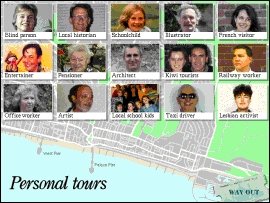 The brief for creating an interactive exhibit about Brighton's history was put out to tender and won by local multimedia company Desktop Display and multimedia designer Jack Latimer.
Their concept was to create a history of Brighton based on 'personal tours' created by local people. Hence the name of the project – My Brighton.
Residents and visitors, ranging from a schoolchild to a taxi driver, were given cameras and asked to create their own tours of Brighton. The tours revealed both the serious and the amusing sides of Brighton, and provided jumping off points to historical material such as related stories and galleries of images.
120 or so volunteers gave their time, expertise and enthusiasm to making the exhibit. The final product took several days to view in full!