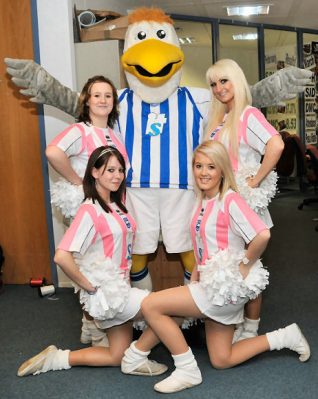 A record amount
Volunteers from Brighton's Domestic & General office took £71,513.50 in just six hours for Sport Relief this week. Staff at the Brighton contact-centre sacrificed their Friday evening to man phones for the national fundraising appeal from 6pm till midnight. The total was £1,500 more than the last Sport Relief event in 2008.
The Mayor took the first call
The Mayor Ann Norman came down to support the event and took the first call of the night. She thanked the Domestic & General employees for helping transform the lives of poor and vulnerable people, both at home and across the world's poorest countries.
Fun challenges
Challenged by personal trainers from Fitnatherapy staff competed in a Wii Fit Tournament, a rowing challenge and an Olympic-themed fancy dress competition. The Albion's mascot Gully and cheerleaders Gully's Girls joined in the games while prizes from local businesses included a LUSH hamper and a free haircut at PeeWee's.
Generous donations in a recession
Ben Dale-Gough, Site Operations Manager at Domestic & General was thrilled with the evening's success. He said:  'Sport Relief has been epic this year and it's amazing to see such generous donations in the middle of a recession. I'm really impressed with the way our teams have pulled together to make the donation process as quick and easy as possible.'