The Pebble Trust Young Artists' Platorm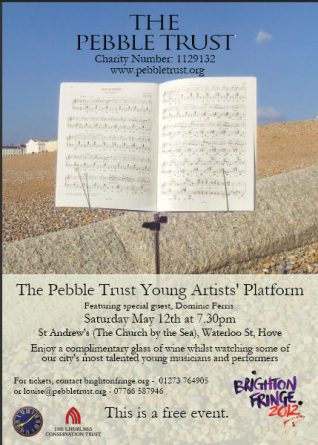 The Pebble Trust
Since 2009, the Pebble Trust has been awarding grants to exceptionally gifted young people in Brighton and Hove. This year, for the very first time, some of these extraordinary talents will be performing for one night only, as part of the Brighton Fringe 2012.
An evening of rich variety
Featuring the incomparable Dominic Ferris as a special guest and musical director, the evening promises a rich variety of music and drama, all performed by young people on their way to the very pinnacle of their chosen art form. The show will include solo performances on viola, piano, sax, trumpet and oboe.
See them before they are famous
There will be songs, performance poetry and dramatic monologues, as well as an extract from an award-winning young playwright's latest work. In a few years' time, this show's audience will surely be able to say: "I saw them before they were famous, and they were amazing even in their teens!"
Show details
The show will take place at St Andrews, Waterloo Street, on Saturday 12 May at 7.30 pm.
The event is free – tickets are available from the Fringe box office –www.brightonfestivalfringe.org.uk or from the Pebble Trust – louise@pebbletrust.org.uk