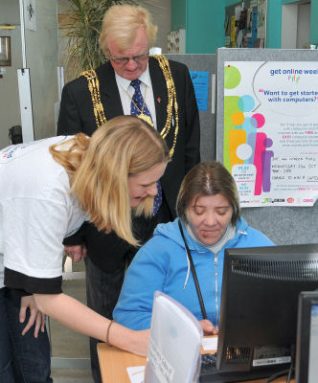 Brighton Housing Trust (BHT) lead the way towards an online nation yesterday by getting homeless, insecurely housed and vulnerable men and women online and confident with computers with a special Get Online Week event. The Mayor, Councillor Geoff Wells, attended the event at BHT yesterday to see how the learners were getting on and give them some words of encouragement.
Giving everyone a chance
There are ten million adults in the UK who don't use the internet, and with services going online and most new jobs now requiring internet skills, they could be missing out on all sorts of benefits, opportunities and savings. Get Online Week takes place between 18 and 24 October, and aims to give everyone the chance to get started with computers and the internet.
Targetting excluded individuals
Lucy Enever, BHT's Online Centre Coordinator, said:  "At BHT we are aware that there is a huge digital divide between those who are part of the digital generation, and those who are not.  Homeless men and women and those in temporary accommodation, as well as those on low incomes, are often excluded.  We are determined to change that for BHT clients and, as a result of our work so far, over 150 individuals have learned how to use a computer and are now online".
A satisfied participant
Yennah Van Hannover came along on the day to get started with computers. She said "I found the day really enjoyable and really useful too. I have been on other computer courses in the past but I never really got to grips with it but this course really worked for me. It was great to be able to learn at my own pace. I am really looking forward to coming back to finish the course."
A huge success
The event was a huge success with lots of people turning up to get involved. Everyone who attended had a go at the free, easy courses and tackled some of their fears of using computers and the internet. Everyone that attended was also entered into a prize draw to win a laptop.