Park Life: latest information on city's open spaces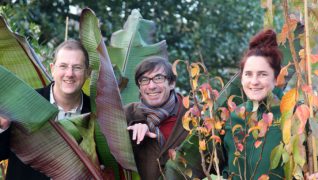 Image reproduced with permission of Brighton and Hove City Council
Wide variety of open spaces
Brighton and Hove has a wide variety of open spaces; the city council is responsible for 98 parks and public open spaces, 6,000 hectares of countryside and 45 playgrounds. They range from well known favourites, such as Preston Park and Devil's Dyke to hidden gems such Kipling Gardens in Rottingdean and the Chattri Memorial on the Downs above Patcham.
Extensive information online
Now the Cityparks section of the council website has been updated and improved with a wealth of information to help people make the most of Brighton & Hove's parks and open spaces. The website includes 'welcome' videos, with park users from the local 'friends' groups and park rangers highlighting their favourite features of the parks, plus information about the many community, social and sports groups who use them.
Something for everyone
There is also information on events, walks, nature reserves, allotments, trees and a lot more besides – from how to book a sports pitch to how to become a volunteer 'urban shepherd' helping to look after sheep which graze on some of the city's open spaces. Another hidden gem featured on the website is Stanmer Nursery in Stanmer Park where horticultural staff tend flowers, shrubs and trees for the city's parks and gardens in 13 glass houses.
Information about the city's parks and open spaces is available on
Telephone: 01273 292929.