Brighton and Hove Broken Hearts Appeal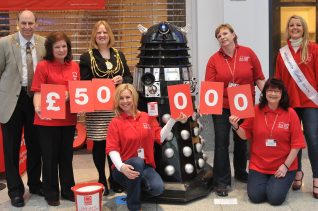 An unusual duo
An unusual duo joined forces at Churchill Square Shopping Centre in Brighton this week, to help the British Heart Foundation (BHF) launch its Mending Broken Hearts Brighton and Hove Appeal, which aims to raise £50,000 to help fund ground breaking research into heart disease. The Mayor of Brighton and Hove, Councillor Anne Meadows joined a life size Dalek to launch the appeal and ask locals to support the fundraising efforts of the nation's heart charity.
In February 2011, the BHF launched the Mending Broken Hearts Appeal; a ground breaking research project based on the extraordinary ability of the tiny zebra fish. When a zebrafish's heart is damaged, its heart cells start to regenerate, creating functioning heart tissue. By learning the zebrafish's secrets, the BHF could trigger this same process in damaged human hearts teaching the heart to 'heal itself.
To find out more about the Mending Broken Hearts Brighton and Hove Appeal, please contact Kim Brophy, BHF Fundraising Volunteer Manager at brophyk@bhf.org.uk or visit the BHF website.