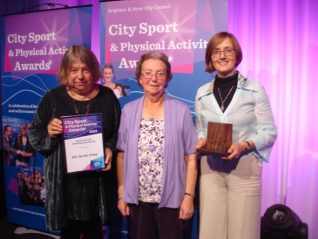 From the private collection of Frances Low
Improving memory and health
Our 50 plus Tai Chi groups meet every Thursday; all are welcome. The exercises are designed by our qualified teacher and aim  to help improve balance, coordination, flexibility and memory. We have about an hour of exercises including stretching, breathing and some Tai Chi moves such as Tai Chi walking. We want to start some more Tai Chi with a view to helping older people improve their memory and health.
Social events each term
Our aim is to enjoy exercise and make it beneficial for our health and general well being. There is tea and cake after the afternoon class. We have three main social activities – one for each term. These are a Christmas lunch at a Brighton restaurant, a lunch at a member's house or at the community centre where we meet in the Spring, and croquet and a cream tea afternoon in Rottingdean in July. We are a friendly group and would welcome newcomers of any age over 50, and of any degree of fitness. You can all be accommodated by our lovely tutor.
A small charge
We are funded by East Brighton Trust, Brighton & Hove City Council and Sussex Community Foundation, to provide activities, social interaction and to decrease isolation. We make a small charge of £3 per session to cover the hire of the hall and tuition fees but most social events are free, and anyone finding it hard to pay can be assisted.
Details
Walter May House, Whitehawk from 10 to 11
The Edge Community Centre by Brighton General.
Both venues are on bus routes and there is car parking available.
Ring tutor, Ghislaine on 01273 679514 or 07795 109131