The Fabulous Fifties Reminiscence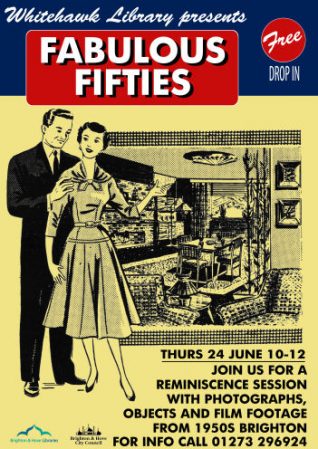 Do you remember the 1950s?
The war was over and we were promised that austerity was over too. Harold Macmillan the Prime Minister told us we had 'Never had it so good'. It was a era of great optimism but times could still be hard; early on rationing was still in place. But at least we saw the end of sweet rations!
What about these prices?
Remember the time when the average house price was £1,790? What about a gallon petrol for 4/6d – that's 22.5p in new money. How about 5d for a loaf of bread? Do you remember Teddy Boys and winkle picker shoes? How about going down to the pub to sit and sip a Babycham?
Why not join us?
Come along to Whitehawk Library on Thursday 24th June at 10am and join in our reminiscence session. We have lots of 1950s memorabilia and photos and film of Brighton at that time. For any further information – phone 01273 296924.
We hope to see you there for a trip down memory lane.