Demise of the old Park Royal: Part IV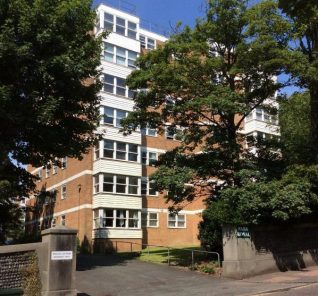 Above the Park Royal Hotel sunroom were the principal bedrooms. The bay to the right contained a room occupied by an elderly American couple, the Pollacks, who were sort of friends of my parents. From what I can remember, they had been involved with some kind of illicit racket in NY in the 20s or 30s, and for reasons they never went into, had been forced to up sticks rapidly and come to the UK, and they took up residence in the Hotel. whether it was the Feds or the Mob they were getting away from, I don't know. When the Hotel closed, they were forced to take a flat in Wick Hall, which they called "The Penitentiary". They were an odd lot altogether!
Demolished in about 1972
Anyway, the rooms in the gables were staff quarters, and the kitchens, which even then seemed ancient and huge were in the apex between the old building and the annexe, invisible from this angle, which by the way is the West aspect, so the photographer is facing Montpelier Road. In about 1969, the Hotel closed its doors, the residents evicted, and for a short while it became the Montpelier Rooms nightclub, a very different use for the old place, the old ballroom being reincarnated as an underground disco. I never went there, I was still far too young, but even that came to an end. Despite official histories of the area, which give the demolition date as 1965, the Park Royal actually was not demolished until about 1972.
Postscript
I remember cycling up there when I was about 12 (I was born in 1960), and stood in that old, familiar gateway. The contractors were hard at work, unaware of the lad in a parka, watching them. It was like the opening sequence of Hitchcock's "Rebecca"- the dream. The roof was down, the windows like sightless eyes, and from where I stood I could see the remains of the great staircase burning in the half- demolished shell. It was a cold, grey winters afternoon, and I felt like crying, because I knew for the first time a part of my childhood had gone. As you've probably guessed by now, I loved that place. My heart is heavy when I think of its sad demise.