A visit to the Slipper Baths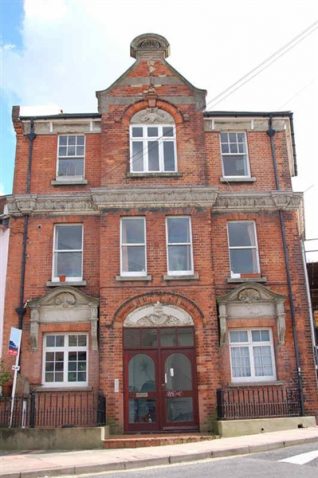 ©Tony Mould: all images copyright protected
No bathroom in our terraced house
When I was young there was no such luxury as a bathroom in the Victorian terraced houses which made up most of the town. I recall we had a galvanised bath tub which hung on the wall of the backyard of our old house. Bath night would involve bringing the tub into the scullery filling it with hot water from the copper, then sitting in and washing all over with coal tar soap. Eventually my cousin Cyril and I would go to the slipper baths on a Saturday morning; taking a towel and the fee of three pence. The Cobden Road Slipper Baths were conveniently situated at the end of Cyril's road.
Six foot baths in cubicles
The slipper baths were housed in an ornate red brick Victorian building fitted out with numbered cubicles in a long row; each cubicle contained a six foot bath. The water was controlled by an attendant who carried a handle to operate the valves that were situated outside the cubicles. When he allocated a vacant one, he turned both the hot and cold water on, while the occupant tested the bath for temperature before closing the door and getting undressed.
Did you ever go to the Slipper Baths? If you can share your memories with us, please leave a comment below
Always an enjoyable occasion
Amusement was caused at this stage if it was discovered that the water was either too hot or too cold. The procedure in this case, was to call out the cubicles number to the attendant with a request for more cold or hot water, who would come and turn on the appropriate tap, acting on shouted instructions from the occupant. Of course by this time the bather would be stark naked inside the cubicle. While we were bathing we would talk to each other through the partitions; it was always an enjoyable occasion. 
An extract from 'Brighton Diaries: Memories of a young man in peace and war 1929-1943. Available at Amazon ISBN 0-9544299-5-8