2:Working 'in service' 1922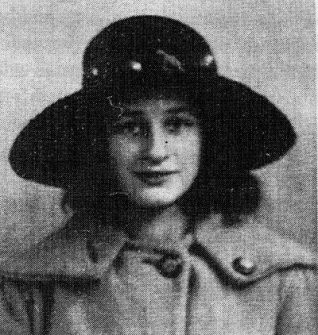 From the private collection ofJennifer Drury
You can find the introduction to Daisy Noakes story here.
My interview outfit
"My sister Lily was working at Ovingdean Boy's Preparatory School and she heard that one of the girls was leaving because she was pregnant so she asked the Matron whether I would be suitable to take on the job when the girl left. As soon as my Mother knew I was going to go for an interview she made sure that I looked the part. She bought off her neighbour a two-piece costume. The jacket came to my knees and the skirt came to my ankles. I had my school stockings and one strap black shoes on".
The finishing touches
"When my mother looked at me she got a hat, turned down the lining, put some newspaper inside this and kept fitting it on my head to see if it would fit without falling over my eyes. She stood back to look at her work and said 'Well you don't look quite old enough' so she got her big fox fur out of the cupboard and put it round my shoulders. The head of the fox was biting its tail over my shoulder".
Wages of £14 a year
"The interview was in November 1922 and I was thirteen years old, I would be fourteen in the December – it was agreed I would start in the January at £14 pounds a year – that worked out at £1. 3s. 4d. a month and my hours were from five in the morning until ten at night. You didn't get a rise for a year and you didn't have to buy a stamp for National Insurance until you were 16. You had to supply your own toothpaste, soap and if you needed shoe repairs bang went the lot!"
You can read the next part of Daisy's narrative here