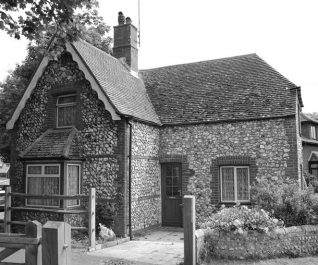 From the private collection of Jennifer Drury
Using the back staircase
Everyone you spoke to in Ovingdean Hall school, if they were 'higher' than you, it was 'Sir' or Ma'am'. Also we daren't use the same staircase as the staff used; the 'ward maids' had to use the wooden stairs up the back. We had no contact at all with the boys, we weren't allowed to talk to them. If a pupil was in bed you must not speak to them. It was considered that they were 'different' from you; they were your betters and you weren't fit to talk to them.
Sleeping four to a room
My living accommodation was in a room with three other girls. In the room there was a long pole going from one side to the other and another going crossways.  On these poles there were curtains hanging; if you wanted a bit of privacy you flicked the curtain along. Where the curtains met in the middle we had four washstands. On the top there was a bowl and a jug with water – underneath you had your soap dish, toothpaste, mug and your flannel.
Freezing cold rooms
Those bedrooms were so cold that sometimes we had ice on the water in the jug.  There was a little door that opened and in there was what we called a 'gazunda' – that was the chamber-pot – we called it that because it goes under the bed!  We had to use that because there was no plumbing for a toilet. In the morning you had to get a bucket to empty the lot, and then go along a corridor, up some stairs across a landing till you got to the toilet to empty it. That was quite a balancing act as you daren't spill anything.