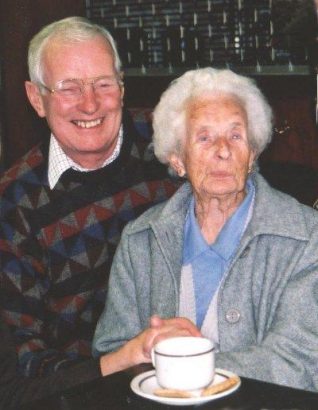 From the private collection of Jennifer Drury
Interviewed in 2000
I interviewed Daisy Noakes in 2000 for an oral history book I was producing as part of the millennium celebrations for Ovingdean village. She had been 'in service' at the 'big house' in Ovingdean in 1922. At the time of our interview she was 91, and although she had completely lost her sight, she lived alone in a flat in Brighton. She was still managing to live independently, with domestic help twice a week and someone who helped her shop.
Daisy's self-deprecating wit
Her very small flat was as neat as a pin and Daisy knew just where everything was. Well, she told me, if she put something down and forgot where she had put it, she would spend a long time trying to find it again. This was told with Daisy's ever present self-deprecating wit – her sight loss was seen as just another of life's hurdles – and one she had no trouble in surmounting.
In service in 1923
My interest in talking to Daisy in relation to Ovingdean village, was to hear about her experiences when she was 'in service' at the boys' school in the village. In 1891, Mr F. Charsley had started a 'school for young gentleman' in Ovingdean Hall. The estate which contained the hall was once owned by Nathaniel Kemp, whose nephew was responsible for the building of Kemp Town. Daisy, whose sister was also in service at the school at the time, joined the staff in 1923.
A sense of fun and zest for life
During her interview Daisy regaled me with so many wonderful tales. She had a hard life, but through it all and even in old age with failing health, her sense of fun and zest for life shone through. Just to give you an idea – just before I left her we talked about health issues and my poor mobility due to osteoarthritis. To show me that she had no such problems Daisy lay flat on her back on the floor. While she swung her legs to touch the floor behind her head she said "Bet you can't do this!". Then she laughed at my concern that she was showing her pink, to the knees, knickers. "Not the first time I've flashed 'em dear" she said "and I hope it won't be the last".
You can read the next part of Daisy's narrative here
'The Town Beehive' by Daisy Noakes published by QueenSpark Books – & – 'In Living Memory: An Oral History of Ovingdean Village' Edited by Jennifer Drury and published by Ovingdean Millennium Association are both available in Brighton Jubilee Library.