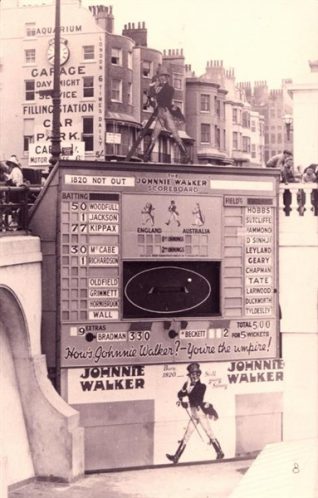 Royal Pavilion and Museums Brighton and Hove
Living on Milner Road
My first memories of Brighton are of living on Milner Road. When we lived there the houses were brand new; they were so new that the roads were not made up and there were no pavements. As a young person, together with my two brothers, the girl next door and a few others we had to make our own entertainment. Our time was spent playing spinning tops with handle and cord, we also played with glass marbles. A favourite was a game where you would set cigarette playing cards up against the wall, and flicked them down with a card and fingers – the ones down were winning collectables.
Horse drawn milk cart
We played cowboys and Indians in the surrounding alleys. Of course there was no traffic then so it was safe. We only saw the occasional milk cart with horses delivering bottled milk. On weekends  there was a man with a tray balanced on his head, selling cockles and mussels. Where we lived the road was very steep leading down to Lewes Road, which at the time was the location of the Royal Sussex Regiment. The army would march up to The Downs at Race Hill on exercise day. It was a wonderful sight, their gun carriages were pulled by horses. They were decorated with polished brasses and jangled as they trotted; the soldiers were in full uniform.
Cricket score board
I think it was about 1934 when the Australia versus England cricket test matches were being played, that a large board was set up at the Aquarium and towards the Palace Pier. The large board  included a rectangular cricket pitch with names of players on either side. In the center of the pitch, was a ball suspended with a cord; a radio broadcast and indicated movement of the ball. The board was placed high up and could be seen over the entrances and walk ways. Of course this contraption was many years before the advent of computers.