Growing up in wartime, 1940-45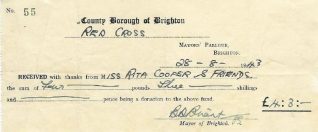 From the private collection of Rita Denman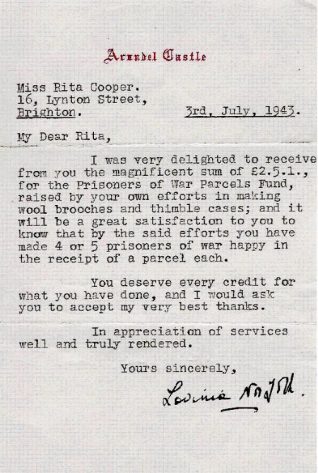 From the private collection of Rita Denman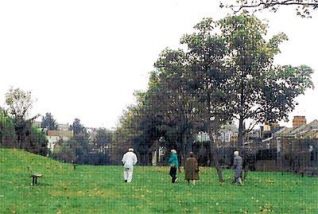 Photo from the private collection of Rita Denman
In the spring of 1940 I sat for 'the scholarship'. I was not a particularly good scholar, so my expectations were not very high. My only recollection of the exam paper was a problem about a zoo where none of the animals could agree and we were asked the best way of housing them. The possibilities were of gaining a place at Brighton and Hove High School, Varndean School or Brighton Intermediate School.
Gaining a place
I was surprised and delighted to be offered a place at Brighton Intermediate School that had been York Place School, and where I spent the eventful war years. A few weeks before I was due to start there, an incendiary bomb hit the boys part of the school and the top floor was burnt out. The repercussions were that our start was delayed and for most of the wartime the top floor of the girls' school, which contained the science labs, art department and sewing room, were all out of bounds.
School colours
Our school colours were navy and green with the initials of the school 'BIS' for the badge. The boys emblem was a bison, and I believe there was a model of a bison on the boys school gate in York Place. Perhaps it is still there! I spent five very happy years there and remember with great affection Miss Manvel the music mistress who encouraged me to sing and taught me to listen to music.
The staff
Miss Fairhurst Scott was headmistress, Miss Webb, Miss Jehu and Miss Thomas taught English, Miss Shaw and Mrs Altimes took maths, Miss Garrow history Miss Bland and Miss Privette PE and Miss Caveny taught French and religious knowledge. Miss Caveny's room was in 'the house'. I have since often wondered about the history of 'the house' which was near to Trafalgar Street. At the time it was just accepted as being there and part of the school.
Playing games in navy blue bloomers
We had a very small asphalt playground just large enough to be marked out for netball and part of the rain shelter had a gas decontamination centre built into it. For games sessions we walked out to Preston Park. As clothing and material could only be purchased on the points rationing system we didn't have special sports kit, but played games in our white uniform blouses and navy blue bloomers. On one occasion during the build up to D Day and while we were at the park practising hockey, a German fighter flew over showering the park with machine gun fire. We all dropped to the ground as drilled and at the first opportunity ran to the nearest cover, encouraged by the Canadian soldiers whose tanks were camouflaged by the trees along the Preston Road side of the park.
'Make do and mend'
As the years passed, luxury items became scarce. New clothes were a treat and more likely to be hand me down or altered from something else. 'Make do and mend' became the order of the day. Costumes and suits were unpicked, turned inside out and re-sewn, skirts became children's frocks, old dresses were revamped into blouses, sheets were cut and sewn sides to middle, and woollen garments were unpicked and the wool re-used. As part of this economy drive, a number of fellow students and I were deputed to demonstrate our sewing skills sitting in the window of the Electricity Showrooms, which at that time were in Castle Square and on another occasion at the Co-op Hall in London Road.
Raising funds
Young people organised street concerts and jumble sales made small novelties from old scraps of material and brooches out of curtain rings and bits of wool. Rags became dolls and soft toys. These were sold to raise money for a good cause, which might be anything from the Spitfire Fund in the early days to Red Cross Parcels for prisoners of war in the later years.  On one occasion, the teachers at the infant school in Pelham Street collected some unwanted pieces of material and asked our Head Mistress for a volunteer to make them into soft toys for the children. I remember making a couple of dolls and some rabbits and taking them to the children making a great play of surprise, and asking who recognised the bits of material.
Children 'did their bit'
The children 'did their bit' for the war, as the saying went. Books were collected to send to military hospitals and messages of encouragement were written in them. Drives to collect all kinds of materials from paper to aluminium were always being held. Public parks were deteriorating due to lack of men to keep up the gardening. My class spent a few afternoons at Preston Park, weeding the rose garden.
Holidays in your own back yard
'Holidays at Home' was also a wartime slogan. The Tommy Handley comedy programme 'ITMA' suggested that everyone should go to Much Fiddling Farm – located in your own back yard or garden. By this time, even the beach was off limits to those of us living on the south coast. Entering into the spirit my mother and sister and I (Dad was in the army) packed a picnic lunch, towels and bathers and took an imaginary bus journey (top deck of course) around our tiny garden before deciding on a suitable spot to spend the day. There was a lot of laughing and repeating of the 'ITMA' catch phrases, and our next door neighbour thought we had gone mad. Simple things such as this broke the monotony of nightly raids and daily worries.
School sharing
After a while, more schools were being shared for safety reasons. School became half time and a good deal of that time was spent in the air raid shelters as air battles were constantly being fought over the town and near channel. A system of immediate danger warning was introduced. The normal air raid siren was for enemy aircraft in the area, but a series of rising 'pips' like the BBC news pips was sounded for enemy aircraft overhead. Until this system was introduced we were possibly in the shelters for hours, and after school time. With the 'pips' system we were permitted to go home during an area raid if we had an 'authorisation card' from our parents. Journeys to and from school could be unexpectedly adventurous when a stray German fighter let off a few rounds of gunfire, as once happened to me in Elm Grove. By this time, most of the eligible men were in the forces. Now and then a child received news of a family member, missing or prisoner of war and sometimes killed.
Brighton and Hove Under Fire
The war dragged on, with its highs and lows. Winston Churchill was a brilliant people person. He understood the moods of the population, and strengthened us when we needed it, and rejoiced when something went well. The nearest bomb incident to my home was when the Kemp Town Railway line was hit, between Bonchurch Road and Elm Grove School. It was said at the time that the fact that it fell in a cutting and the blast thrown up saved the area from real devastation. As it was very many houses lost their ceilings, which were of lathe and plaster. The shattering of glass seemed to go on for ages and was very frightening. Although the big cities took the brunt of the blitz, Brighton had its own war record, and tragedies. This is amply illustrated in the booklet that was published by the Brighton Gazette in 1946 entitled Brighton and Hove "Under Fire". It contains a fine tribute to the town written by a young soldier which ends with these words "They may build a bigger and better Brighton, but they can never make you greater or finer than I saw you during the years of war".
The wounded brought home
The people of Brighton were affected deeply by the terrible consequences of the raid on Dieppe. Many of the wounded were brought to the Brighton General Hospital at the top of the Grove. Our neighbours had a peach tree in the back garden, which that year had a huge crop of enormous fruit, which in days of rationing and shortages was a great bonus. They stripped the tree of the fruit and took it to the hospital for the wounded Canadian soldiers.
Sussex became a military arsenal
In the build up to D Day, Sussex became a military arsenal with convoys of tanks and military vehicles of all kinds being moved from place to place. It was sometimes impossible to cross the road by The Level on the way to school. One just had to wait for the stream of army vehicles to pass. At long last deliverance day arrived. Many people had a map of Europe on a wall where the progress of the war in Europe was followed but there were still many setbacks to overcome and terrible revelations to know about.
VE day
Six years of deprivation was endured with normal living at a standstill. The Victory in Europe celebration was a release of tension and the whole town went wild. When the war ended, I was 16 years old and about to leave school and make my own way in the world.