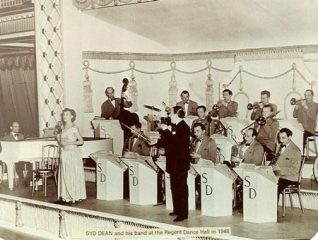 Christmas of 1949 was an important personal time. My boyfriend finished his National Service in the Air Force and by the following spring we would both be 21 years of age. We decided to become engaged. We knew that it would be a long engagement as he was about to take up his degree course at Brighton Technical College and would need to get himself established before we could think of marriage.
Brighton Technical College
The Technical College was a prestigious education establishment in Brighton, always busy with students coming and going. The student Rag Week was a regular feature in Brighton's calendar with stunts staged all over the town and with the inevitable dressing up and money collections. The College had a mascot named The Drogulus and on one occasion, Drogulus was kidnapped, an event reported in the local newspapers which provided interest and advertisement for the whole of the week.
Dancing to Syd Dean
In the fifties, the father of one of our friends at St Wilfrid's organised dances at the Regent Ballroom in support of the Southern Railway Orphanage. This good cause seemed a justifiable opportunity to spend a little money on a treat and what treats they were. Syd Dean was renowned throughout Brighton and far beyond and dancing to his music was just heaven. The beautifully sprung floor of the ballroom must have made even the 'two left footed' feel as though they were dancing on air.
Harry Bolton a popular soloist
The quickstep and waltz were everyone's favourites.  Not so many were able to dance the foxtrot and the floor was a lot less crowded for the old fashioned waltz – thank goodness, as the whirling away took up quite a lot of space.  One young man in my group of friends was able to partner the old fashioned waltz and he was in great demand.  There was one moment in the evening when everyone stopped dancing to stand and listen to Harry Bolton play a trumpet solo. Trumpet Blues and Cantabile was my favourite. What a talent he had and how we all applauded.
Cinderellas after the ball!
The Regent Ballroom and Syd Dean must be a defining memory for many of my generation in the Brighton area. At the end of the dance and to the strains of 'Who's Taking You Home Tonight,' at 12 o'clock like massed Cinderellas we rushed outside to where a fleet of buses were waiting to take passengers to all parts of the town. As I lived in Elm Grove my bus toured quite a long way round the sea front finally getting to the Race Hill and down the Grove.