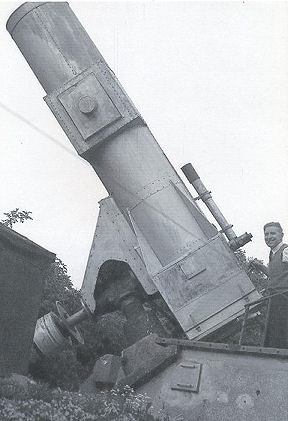 From the private collection of Georgie Hole
A new post for George
George ended up in the National Fire Service as a buildings officer, responsible for ensuring the provision of water cisterns for much of the south coast. These were reservoirs built for fire brigade use, in case the mains had been damaged by bombing. There was, for instance, a tank installed in PrestonPark.
English eccentricity?
The Pathe news archives have two films of him showing his astronomical activities, and the first is entitled "14 inch telescope Issue Stars and Stripes 1942″. It shows him in fire service uniform looking through his latest telescope. It is an odd title – was it taken to reassure the American troops that good old English eccentricity was still alive and kicking during wartime?
Constructed an air raid shelter
The second item on the Pathe News is a 1949 film, taken in the back garden of 44 Sandyhils Avenue, Patcham, and showed George coming out of his shed and placing a precious mirror into his latest telescope. The local papers made a mild item out of stating the neighbours thought there was a gun in his back garden. However, he was well liked by the neighbours, and when he burrowed into the back garden to make a large air raid shelter, they were welcome to come on in.
The perils of bloomers
One Victorian maiden lady did just that, in such a hurry one night, that she put both her legs down one leg of her bloomers, and sat in agony for hours until the all clear sounded. She was too shy to admit until later, what she had done. It is unclear how she ran down to the shelter in the first place.
Read Part IV here