Photographed with Dr W.G.Grace, c1905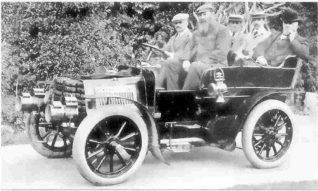 Contributed by Mr Tony Preston
Harry, as he then was, owned the Grand Hotel in Bournemouth and had just acquired the Royal York in Brighton. Grace was staying with the rest of his team at the Bournemouth Grand and he was keen to go with Harry to Brighton the following day.
However, Harry was dubious that the great cricketer would be ready in time as he was due to go in to bat. Grace had a reputation for occupying the crease for long spells, regardless of whether he was given out or not, but in this instance Grace said he'd be ready.
The next day Grace went out to bat before an expectant crowd. He chopped the first ball away. The second hit his substantial frame and dropped onto the wicket. "Out", said the umpire, but he was talking to thin air for the great man was already on his way smartly back to the pavilion, much to the stunned amazement of the big crowd.
"I told you I'd be ready", was all he'd say to Harry as he clambered into the car.