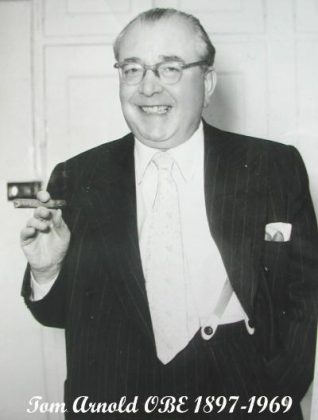 From the private collection of Trevor Chepstow
The impresario Tom Arnold will be best remembered by the people of Brighton for producing some of the most exciting post-war ice spectaculars the town has ever seen. His name was known the length and breadth of Britain with some of his most lavish and expensive ice shows ever produced being shown at the Wembley Ice Stadium.
Although born in Yorkshire, Tom Arnold considered Brighton his second home and owned five different houses in the town during his long stay here with his family.
Dubbed the "King of Pantomime", his business activities were extensive and included opera, classical plays, films, revues, American rodeo and variety, ice spectaculars and circuses. His empire extended to the continent and South Africa. He was undoubtedly the most versatile and successful theatrical businessman of his day.
Tom Arnold and the Sports Stadium
At the end of the Second World War, Tom Arnold acquired the lease of the Sports Stadium and brought his first production to the town. "Hot Ice", starring Armand Perren, Len Stewart and Sheila Hamilton, delighted visitors to Brighton in the summer of 1945.
This was followed by "Ice Caprice" under the direction of Gerald Palmer and featuring Armand Perren and Olive Robinson. "Hello Ice" followed in 1947, starring British champion Daphne Walker. Some of his most popular shows at the SS Brighton were the summer "Ice Circuses". Many of these featured circus animals such as dogs, seals, ponies and monkeys, and many other circus animals including bears!
In one of the shows, a bear owned by Elizabeth Vogelbein the trainer bounded across the ice and leapt amongst the audience. Chased by Vogelbein and various members of the staff, the bear ran up and down the gangways before finally running into the orchestra area, from where he ambled quietly back into his cage!
A lifetime's achievement
Tom Arnold passed away February 2nd 1969 at the age of seventy-two in St Mary's Hospital, Paddington after an illness of only a few days.
Below are just a few of the ice shows staged at the Sports Stadium in West Street, Brighton during Tom Arnold's  ownership.
Ice Rhapsody
Aladdin
Dick Whittington
Ice Express
Sleeping Beauty on Ice
Rose Marie on Ice
Chu Chin Chow
Seven Summer Ice Circuses (from 1951)