Ras Prince Monolulu 1880-1965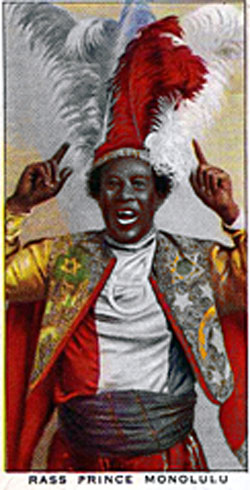 Photo by kind permission of Edward Scale.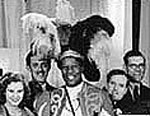 From the private collection of Trevor Chepstow
My first recollection of Prince Monolulu was as a six year old boy in the early fifties when my grandfather used me to take to the Brighton races with him. Part of the excitement for me was the trolley bus ride up Elm Groove, my grandfather and me sitting on the top deck looking at all the punters making their way laboriously up the steep hill on a summer's day.
A giant black man
To a six year old lad the first sight of him was amazing, there was this giant black man in a brightly coloured outfit with large coloured ostrich feathered plumes from his hat. The first sighting made all the more exciting when my grandfather told me he was a Zulu Prince from Africa!  At six years old I had never seen a black man before let alone a black prince!
A tipster in fancy dress
My grandfather was a regular visitor to Brighton race course and knew him well.  On the first occasion my grandfather introduced me to him I remember standing there petrified!   Fifty odd years later I can still see the man and him shouting, "I Gotta Horse" to anyone that would listen as he strode around the course in his fancy costume and plumes.
Does anyone have photos?
I'm sure many local people will remember this colourful character from his many visits to Brighton and I look forward to viewing reader's comments and hopefully some local photographs of him on the racecourse and in and around Brighton.
The most famous black man
Ras Prince Monolulu was the most famous black man in Britain. Between the wars, he was a national icon renowned for his eccentricity, a racing tipster of such theatricality that even in the days when newspapers carried few photographs and television was in its infancy, he was still the most recognisable racing personality other than the top jockeys.
Catchphrase – "I gotta horse!"
Everyone knew that he wore a bizarre costume of massive baggy trousers, and a headdress of ostrich feathers atop ornate waistcoats, and colourful jackets. Prince Monolulu would be at all the important race meetings where he would sell his tipping sheets in envelopes. He was very funny, and would have the crowds in stitches with his banter – just like a market trader, only with much more style. His catchphrase "I Gotta Horse" guaranteed him a place in most newsreels of the day featuring racing.
Of Scottish descent
He claimed to be the chief of the Falasha tribe of Abyssinia, but in reality he came from Guyana, as it is now and was of Scottish descent – his real name was Peter Carl Mackay. According to his memoirs, called, funnily enough, "I Gotta Horse", he started out as a sailor but re-invented himself as a Prince after being press-ganged aboard an American ship in 1902. He was told princes were important people, and he figured a prince wouldn't be shanghaied again. He was soon off round the world, eating fire in a travelling circus, working in Germany as a model and boxing in France, pretending to be an opera singer in Russia, and becoming a fortune-teller in Italy.
Battle against racist attitudes
Interned in a German camp during the First World War, he emerged to become Britain's most famous racing tipster – unlike some of today's TV tipsters he was funnier, louder and considerably more accurate with his tips!  Indeed he came to prominence because of an extraordinary coup in the 1920 Derby. Virtually alone among tipsters he plumped for 'Spion Kop' the 100-6 outsider which romped home in record time to win him £8,000 – a fortune in those days. His career was made; soon no major race meeting was complete without a visit from the Prince and his envelopes of tips.  He was a figure of fun, yes, but he also contributed in his own uniquely humorous way to the battle against racist attitudes.
First black man on TV
Such was his fame that in 1936 he achieved a slice of immortality – on 2nd. November in that year, the BBC began its television service and Prince Ras Monolulu was the first black person to appear on screen on that very first day of British television broadcasting. He himself estimated that between 1919 and 1950, he made and lost up to £150,000 on the Turf, and while his health and fortunes declined in the late 1950s he was still a much-loved character.
Remembered as an amazing man
Prince Monolulu was always himself as a bit of a ladies man and was believed to have fathered many children and married several times. Once was to the actress, Nellie Adkins on the 21st August 1931. When he died of cancer on the 14th February 1965 at the age of 84, the Daily Telegraph and many other newspapers carried full obituaries of this amazing man.  Prince Monolulu, the man who had brought a ray of sunshine to the punters at many race courses throughout Britain regardless if they won or lost!