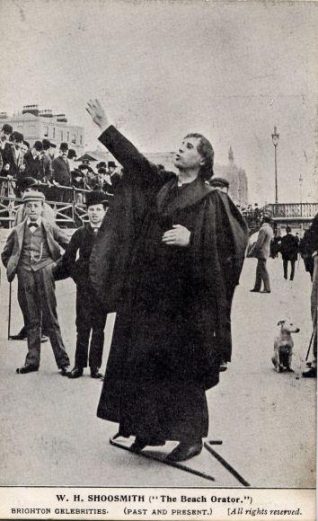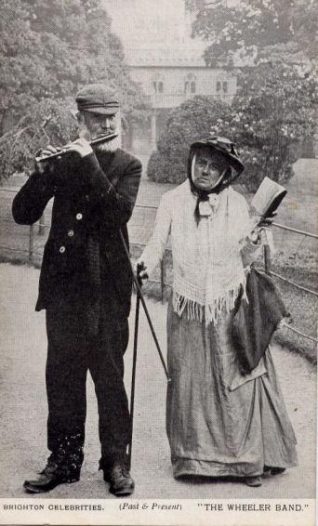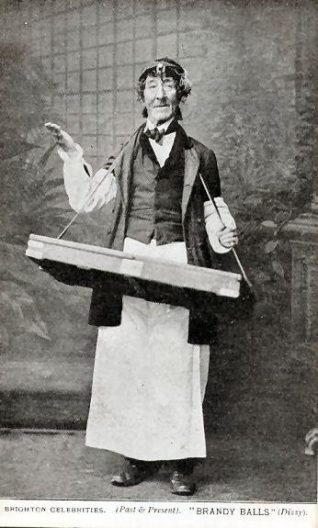 Interesting donation
Just before Christmas we received a very interesting donation of material from Mr Peter Hunt. These old postcards of 'Brighton Celebrities' were part of it. Unfortunately the accompanying notes to the postcards were very sketchy and so we have very little information about them.
Can you help us?
Have you any information on these wonderful characters? Do you know when they could be seen around the streets of Brighton? If you can give us any clues please reply to jennifer@mybrightonandhove.org.uk  We will of course publish any contributions we receive.
Beach orator

William Henry Shoosmith was the beach orator. Apparently he would talk for ages about any subject you cared to suggest. He always wore the black gown he is pictured in.
Wheelers Band
'Wheelers Band' – we think were a man and and wife team who entertained around the town. Do you know anything about these colourful characters?
Brandy ball man
Finally we have 'The Brandy Ball Man' – we know nothing about him other than he sold his wares around the streets of Brighton.
We are looking forward to hearing any more you can tell us about these Brighton Celebrities!