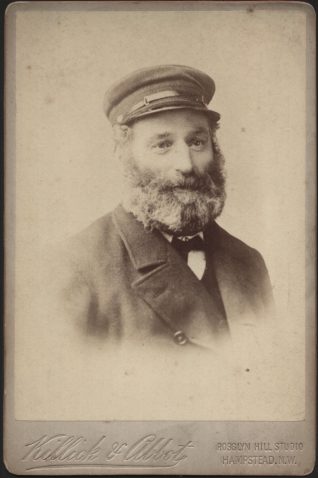 Photo from a private collection
Charles Thomas Woolgar, was my great, great grandfather.  Born 1837 at Horsted Keynes, he lived much of his life in and around Hove. Charles was a larger than life figure, well known in the George Street area of Hove. I am told he dressed 'like a gentleman' and would parade up and down with his walking stick – or should I say cane?
He certainly lived in George Street from 1896 to 1903. All I originally knew about him was from family stories – tales of him being mean and treating his wife badly. I am told he gave his children money to go bed and be good, only to demand it back in the morning as payment for breakfast! He terrified my mother by sitting in the family florist shop, waving his stick about, shouting at customers.
The shop was in Church Road, Hove; variously known as 'T Banks', 'Banks and Son' and lastly 'Banks of Hove'. Other family stories were of his being the illegitimate son of the Prince of Wales, later Edward VII but either they were spread to bolster his image or the teller was confused. I also heard about him owning a bathing machine business and that his son inherited this but sold it on to an employee called Morley.
Born to a seemingly, very normal family, his father being one of the eponymous 'Ag Labs', Charles Thomas grew up in a fairly rural district but times were changing and people were still moving to the bigger towns and cities. Sussex was a poor county in the 1800's. By 1861 Charles had left home, married and joined the Merchant Navy – he is "On Board Vessel 'Spring' Shoreham Harbour aged 24 a sailor". When I first found out he was a sailor, I pictured him going off to foreign shores but the only evidence of his service found, so far, is that census entry and other references to his occupation. Perhaps I do him a dis-service but the fact he was no further away than Shoreham Harbour.
The family lived in Portslade and Southwick for a time before returning to Hove. At least eight children were born between 1861 and 1880. He doesn't seem to have lived with wife Harriet much after the 1880s. By 1901 she was in Steyning Union Workhouse, listed as a pauper; even though Charles was very much alive. Harriet died in the workhouse in 1913. Charles is shown in records, as a bathing machine operator and later as a pleasure boatman. I know his son, Harry, was later involved with the 'Skylark'.
Charles Thomas remarried in 1917, to a wealthy widow called Rebecca Hammond. From what I have been told, he and Rebecca lived a very good life in London where Rebecca owned Bakery shops.  Apparently Charles used to model for artists who made stained glass windows and was used to represent prophets and saints!  With his beard and strong face he probably did look like someone from the Old Testament.
Charles lived to a ripe old age and died in Bloomsbury in 1923. His widow renounced any claim to his estate, valued at £71.15.0d, in favour of his son, Henry Woolgar  Unfortunately there is no further detail to say whether the Estate consisted of anything more material – like a Bathing Machine.