Henry Fauntleroy:hanged for forgery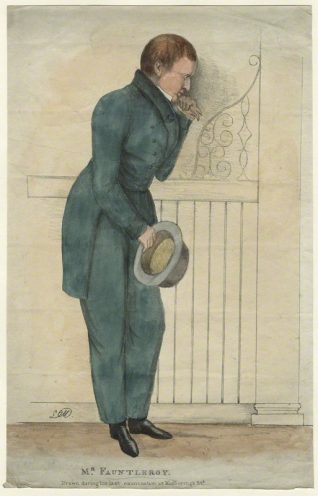 This work is licensed under a Creative Commons Attribution-NonCommercial-NoDerivs 3.0 Unported License.
A spooky coincidence
Henry Fauntleroy was a crooked banker hanged for fraud in 1824. He had a Brighton home less than a mile from that of his hangman, the notorious James "Jemmy" Botting who has his own page on this site. And if the report mentioned by Roy Grant on Botting's page is correct – that when Botting fell from his wheeled chair at the corner of Codrington Place & Montpelier Road, no-one came to his aid and he was left there to die – it is a spooky coincidence, because that is precisely where Fauntleroy lived.
Smart Brighton villa
Fauntleroy had a very smart villa called Hampdon Lodge which stood on land that is now Hampton Place/Codrington Place – behind the old Post Office which is now Cook on Western Road. In 1922 a magazine article noted: "Hampton Lodge, where Fauntleroy, the forger, resided, is now converted into flats, but the old porch and passage which led to it still stands, and is No. 140, Western Road, Brighton."
A final fatal meeting
According to the Oxford Dictionary of National Biography 2004: in 1821 Fauntleroy bought "a sumptous Grecian villa at Brighton and erected a billiard room in the form of Napoleon's travelling tent."  Botting lived nearby, in much less salubrious surroundings, just off West Street. It's strange to think of the two men regularly crossing each other's paths in Brighton as they must certainly have done, and then both meeting in London, one to face the death penalty and the other to carry out the execution.
Family banking business
Life had started well for Henry Fauntleroy who was born in 1784 and followed his father into the banking business. He joined the family firm of Marsh, Stracey, Fauntleroy and Graham, in Berners Street, London and became a senior partner after his father's death. It was a small bank and it ran into trouble after several businesses which owed it money went bankrupt, a partner retired with a big pay-off, and the Bank of England became reluctant to keep extending its credit.
Maintaining a lavish lifestyle
If word had got round that the bank was in difficulties all its customers would have tried to empty their accounts and that would have been a disaster – there was not enough money in the coffers to give them their cash back. Or, for that matter, to keep Fauntleroy in the manner to which he was accustomed. He had London and Brighton houses to maintain, and a lavish wine cellar, celebrated as one of the best in the country.
Resorted to forgery
So he tried to cover up by juggling figures and forging signatures so he could transfer money out of deposit accounts to keep the cash flow going. He was caught out when a family tried to cash in a trust fund and found the account was empty, with a forged instruction to transfer the funds to Fauntleroy. He was arrested in September 1824, tried and found guilty of forging with intent to defraud the Bank of England and other parties of around £20,000, then hanged at Newgate on 30 Nov 1824.