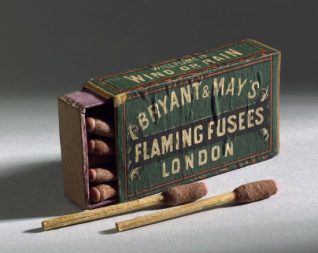 Wikimedia: Creative Commons licence
A blind man
In the 1950s and early 1960s, there was a blind man who used to sell matches, from a tray that was strung around his neck. It was in the style of the ice cream sellers in cinemas. As I remember, heused to stand somewhere in the shopping area of London Road. I wonder if anyone else remembers him?
Did he make a profit?
Even back then and as a child, I wondered how he made a profit from what he was doing. Did someone give him the matches?  How much did a box cost and how many did he sell? Surely he can't have raised anything like the amount of money it would take to live on? I guess that it has to be borne in mind that, at that time, almost all adults were smokers. But I would guess that most people would buy their matches along with their cigarettes. This is a mystery to me.
Do you know anything about this subject? If you do, please leave a message below?