Bernard Elias: actor and skater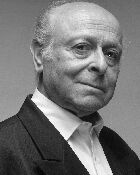 From the private collection of Trevor Chepstow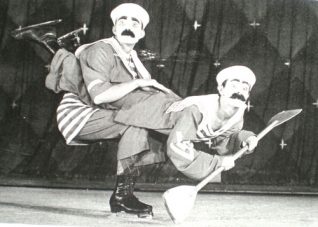 From the private collection of Trevor Chepstow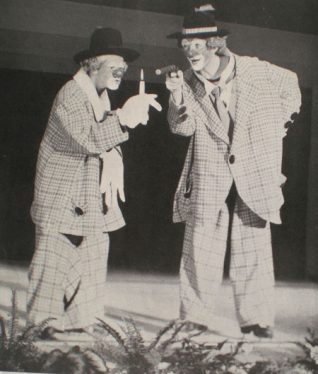 From the private collection of Trevor Chepstow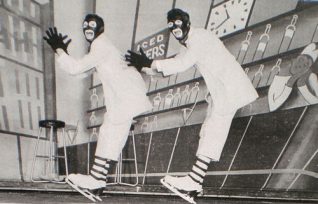 From the private collection of Trevor Chepstow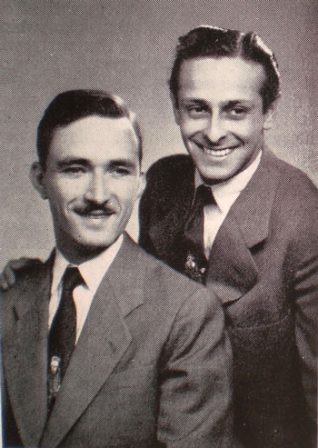 From the private collection of Trevor Chepstow
Bernard Elias, the multi-talented European actor and skater was born in Frankfurt, Germany.  He moved to Switzerland before Hitler came to power and finished his schooling there, his first acting experience was on the Swiss stage.
Debut in Brighton
His debut appearance in Brighton came after Tom Arnold saw him performing his act at a show in Denmark and signed him up for the Brighton summer show of 1948.  Bernard's partner in the act was talented skater called Otto Rehorek and they were billed as 'Buddy & Baddy'.
From strength to strength
Following a successful show in Brighton this unusual comedy team were signed to appear for another of Tom Arnold's shows at the famous Stoll Theatre in London.  As their career went from strength to strength they were contracted to appear with a Danish company to tour Scandinavia and finally finish the show in Egypt appearing in Cairo and Alexandria.
A special rink
Unbeknown to 'Buddy & Baddy' no professional ice show had ever been performed in Egypt before.  A special ice rink had to be built which they were the first to test, thus making them the first people to set foot on a professional ice rink in Egypt!  So successful was the show that they were summoned to do a command performance for King Farouk.
Return to Europe
On their return to Europe they were fortunate to be signed up to appear in the famous touring Ice Show "Holiday on Ice". Engagements included a guest performance with the Norwegian world champion ice skater Sonja Henie (three times Olympic & ten times world champion) at the time of the coronation of Queen Elizabeth.
Many leading roles
Bernard Elias continued to tour the world for the next eleven years with the show until 1961 when he returned to his fist love, acting. Never far from the limelight Buddy's return to the stage saw him go on to perform in many leading roles on stage and screen, mainly in Germany and Switzerland.  In 1979 he starred in "The Canterbury Tales" at the Shaftesbury Theatre in London, to great acclaim. He has also performed on French television and is a regular at the Festivals in Aix en Provence and Salzburg.
Charitable work
While continuing his acting career, Bernard Elias also serves as the President of the Anne Frank Foundation.   He is the last direct remaining living relative of Anne Frank, her cousin.  He was fondly called Bernd by Anne although he is generally known to friends as, Buddy.  His last memory of Anne Frank was when they met up in the Swiss Alps in 1938, the rest is history.
Still performing
The Anne Frank Foundation is the heir and conservator of the estates of Otto and Anne Frank. This foundation promotes charitable work and plays a social and cultural role in the spirit of Anne Frank. Mr. Elias has recently accepted a leading role in one of Germany's television comedy series and he has also been cast in a television production about right wing terror.  (http://www.annefrank.ch).