Music Hall duo Scott & Whaley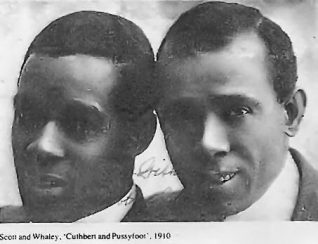 From the private collection of Terry Hardy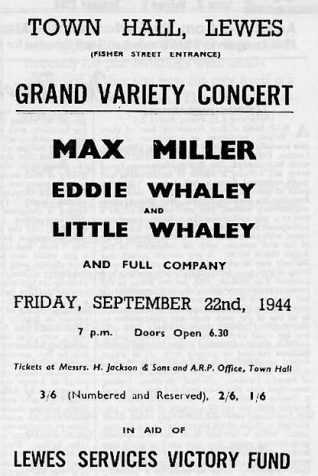 From the private collection of Terry Hardy
Eddie Whaley and his partner Harry Scott were African-American music hall and radio comedians who came to England in 1909 and settled here.  They were the first black performers to star in a British film, Kentucky Minstrels (John Baxter, 1934). In the film they recreated the roles they had popularised in their long running BBC radio series.
Lived next door to Max Miller
Eddie Whaley moved to Brighton in the late 1930s and bought 124 Marine Parade, Brighton next door to a house Max Miller owned.  In the 1950s the house was named in large black letters WHALEY HOUSE.  Eddie Whaley lived there until his death in 1960. He was cremated in the Woodvale Crematorium.
Following in father's footsteps
Eddie Whaley had a son born in Brighton in 1939 who became a performer in his own right.  He appeared on stage with his father as Little Whaley (see copy of a Grand Variety Concert, Town Hall, Lewes advert attached). Eddie Whaley Jr. had a good role in the classic film Black Narcissus (1947) at the age of 7.  In 1959 Eddie Whaley Jr. left Brighton for the USA and within a month was inducted into the US army.  After three years of military service he took up a showbiz career and worked with some of the greats including Tommy Trinder, Tommy Cooper, Max Wall, Dave King and Yana. He joined the Deep River Boys where he remained three years. He now lives with his family in Florida and occasionally visits Brighton.