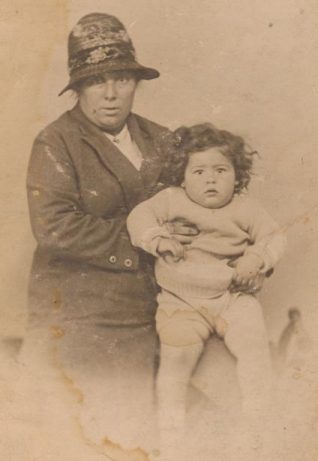 From the private collection of Gordon Dean
My grandmother, Mary Ann Thompson, was an amazing cook, her caraway seed cake melted on the tongue. She'd been a cook and a seamstress at Preston Manor before she married. She used to wear a long black dress down to her ankles.
A purse hidden under her skirts
Now she had a purse [you'd get your bag nicked in those days] so she wore something she made up herself, like a Scotsman's sporran, and tied it round with tape on top of her petticoats – they wore about three petticoats in those days – in went the purse under this long black skirt. But unfortunately every time she went to the shops, she had to lift up her skirt.
A big ceremony for a penny
But the funniest thing was, I came home from school one day… in Redcross Street, there was a shop called Hazeldean's where we used to get penny blackcurrant drinks, they were marvellous, hot for the winter… and I was going back to school and I said to my Grandmother, "Gran, can I have a penny for a blackcurrant please?" So up come the skirt and she'd get this purse, she'd undo all the elastic bands and she said, "There you are" – this big ceremony for this penny … she give me this penny and Max Miller had come in from the scullery and he just saw her drop her skirt down and he looked at her and said, "I see the bank's closed then Mary!"
Hiding that from Max?
Another time, I was with her in Osbourne's – they were grocers with shops all over Brighton – this one was in Sydney Street, and I remember she was buying cheese and lard (everyone cooked with lard then) and beef dripping. Up came the skirt and someone who knew us all very well, called out: "You hiding that from Max, Mrs Thompson?".
'Goodbye Queen'
Percy (Max's brother) lived in Redcross Street – our gardens almost backed on to each other. My mum had all art deco stuff upstairs but my Gran, downstairs, was all Victoriana. When Max left after visiting my Mum, he'd say "Goodbye, Queen. I'm going down to the other world".