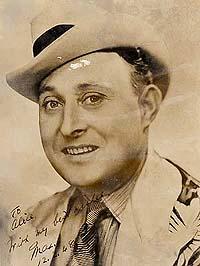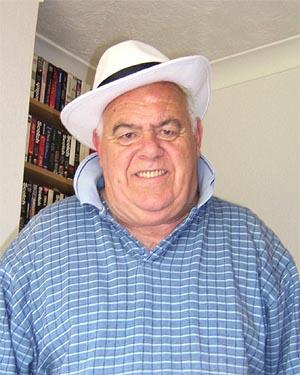 Photograph from the private collection of Gordon Dean
I remember when I first met Max Miller, I was in a bungalow bath that you brought in from the yard and put on the floor, filled with water from the copper. It were 1936. Gran had the oven door open with the gas alight to keep me warm. He came down, this tall feller, he said "You're lucky son; my Grandmother never had a bath. No, she used to wait for it to rain and throw me out into the garden with a bar of soap!" That was the first joke I'd ever heard of Max's; he was up the stairs and gone.
Into my life like a beacon
He came into my life like a beacon, he was marvellous. My family knew Max for years. My Granddad, Alfred Thompson, was a cornetist in the old time musicals. He was a musician in the pit orchestra in theatres, old music hall theatres, with performers like Marie Lloyd, Nelly Wallace and Gus Elan. Max used to come down to see him and they were always on about songs and other things you see. I'd hear my Granddad blowing notes for Max downstairs. I was just a little boy, growing up, it was incredible.
The narrowest bunch of roses
One day he came down [to the house], and he brought a rose. His thumb was bleeding; he'd pricked it on a thorn. On the table was a bleach white table cloth, 'American Cloth' it was called, and he put this red rose there. "Mary, [my Grandmother] I've got something for you". She came in from the scullery. He said "There you are." and she looked down at it. I could see this twinkle, and she said, "Max, that's the narrowest bunch of roses I've ever seen in me life!". So he looked at her and said "Mary, look, don't be like that". There was a pint beer glass standing on the mantelpiece with water in it so she put it in there. He said; "Mary it's not long till me birthday. You give it to me back then if you like!". They were laughing with each other and that stuck in my mind.
A red rose every year
When he died I remembered that and I've taken a red rose up to the crematorium and put it under his plaque with a little card, a different message each year. I've done that every year, every 21st of November rain or shine I get there. .
I was thirty-three when he died; the wonderful things he did for me I still choke up about now.