Brighton milkman 1979: Part I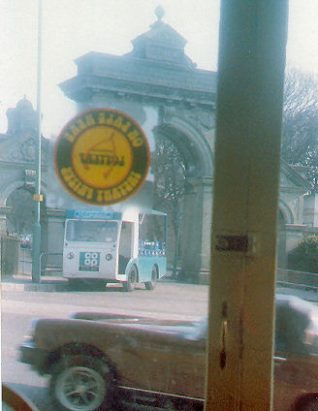 From the private collection of Sherren Hobson
Differences in milk rounds
I was a PhD student at the University of Sussex from 1975-7 then briefly a Cooperative milkman. I left Brighton end of 1979. As a milkman, you got paid a bit more, not much, if you're on relief. I did not have a fixed round; just turned up at the depot. I looked at the board, or checked with Spud Murphy, and took the books for whatever round he put me on.
A pig of a round!
There was always someone off sick, or people's free days to cover, given we did Sundays, too. It was all the same to me. True, there was a lot of difference between, say, a Saturday in January, out on the diesel, all round Saltdean, on a pig of a round, collecting and all, in the sleet; or a Sunday morning in June.
Doing a round 'blind'
I have been out from five in the morning until six or seven in the evening, in the dark, doing the Saltdean round, or one of the others out that way, 'blind'. 'Blind' means you are on your own on a round you have never seen before. You have got to do it 'book order', hoping you find all the right back entrances, unnumbered houses, and so on, possibly in the snow and dark. 'Book order' means following the book: first address first, last address last.
Do you remember your milkman? Share your memories by posting a comment below
Planning my breakfast
When you know a round, you do it to please yourself, even if old Spud back at the depot gets irate phone calls from the old dears who want their milk delivered first, and not at eleven or twelve. When you know a round, you choose where you are going to have breakfast. So you work it to end up at the transport cafe, where you know you are going to get a good nosh, at seven or half-seven. Or if you happen to be on one of the rounds near home, that stands to reason. Happy days.
Read Part II here