A Brighton Man of Letters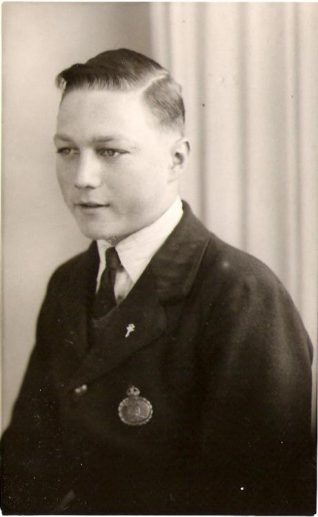 Harry Bennett's private collection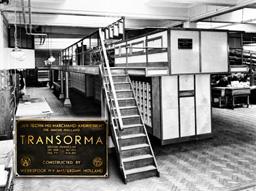 Harry Bennett began his forty-five year career in the General Post Office (GPO) in April 1940, just prior to the Dunkirk evacuation. As a 14 year old Messenger Boy based at the Brighton area Telegraphists' headquarters in Ship Street, his starting wage was 12/6d (approximately 62p). Delivering telegrams in wartime, he was often the unwelcome bearer of bad news – "lost, presumed dead". A Messenger Boy waited at the door whilst the telegram was read in case the recipient wished to reply. Thus occasionally a recipient of bad news vented their initial shock and grief by screaming abuse at the boy.
Failure to carry out delivery duties effectively resulted in additional unpaid work, known as "turkey". Does anyone know the derivation of this term?!
Called up for war service
From 1942 to 1944 – the year Harry was called up for war service – he graduated to motorcycle work. This attracted an additional 9d per week. It also gave him time to ride home to lunch in Ashford Road, parking his machine discreetly off-road – as required by his employer – amongst the milk floats belonging to Ernie Dawes' dairy. However, this arrangement was short-lived for, even though the Messenger Boys were required to deliver telegrams near their homes at lunchtime, a neighbour complained that this journey constituted a waste of war-rationed petrol.  Demobbed in 1947, Harry was allowed a week's rehabilitation. He then commenced work as a Postman.
North Road sorting office
He was now based at North Road, in the building constructed on the site of the Regent Foundry in 1926 – currently the Brighton Area Delivery and Sorting Office. The basement contained stores, and a generator in case of power cut. Local mail was sorted on the ground floor. On the first floor, non-local mail was sorted with the help of the Transorma, a machine uniquely held by Brighton GPO, having been imported from Holland before the War. The canteen was on the second floor. According to Harry, some staff enjoyed alcoholic beverages with their meals but, thanks to a high density of pubs in the locality plus a thriving social club for GPO workers in Church Street, the sale of alcohol was soon deemed unnecessary. The Telephone Exchange occupied the third and fourth floors.
The postman's 'walk'
A Postman could request a change of 'walk' when a vacancy occurred, these being allocated in order of seniority. New walks often resulted from a "revision" – a reorganisation of routes following, for example, the building of a significant number of new houses in an area.
Promotion in 1949
In 1949, Harry became a Postman Higher Grade. Based in the Sorting Outward section at North Road, this promotion meant the end of outdoor delivery work. Following a stint at "floor duties", he was selected for training on the Transorma. This demanded the ability to translate each of the country's 324 counties and principal towns into a unique numerical code, as well as a working knowledge of any smaller towns and villages subsumed thereunder.
The 'Transorma' machine
Although the Transorma had spring-loaded carriages which opened fifty times a minute to receive mail, operators rarely achieved such high productivity. As both accuracy and speed were required, around thirty letters per minute was a more realistic norm.
Further promotion in 1953
Harry became an Assistant Inspector in 1953. In this new role, he noted the irony of reprimanding lower grade staff "when a fortnight ago you were doing the self-same thing!" He was also now supervising his Postman father, who always eschewed promotion. In 1969, the year the GPO was nationalised, Harry Bennett became Senior Inspector. Whilst as an Assistant Inspector, he had paced the streets himself to time delivery walks for ordered revisions, he now initiated such revisions.
Senior Inspector in 1965
Twelve years later, he became the Senior Inspector, a post he held until retirement in 1985. This exit was perhaps timely for, the following year, the Post Office was reorganised into three separate businesses: Royal Mail Letters, Royal Mail Parcels and Post Office Counters. Telecommunications had already split, having become fully privatised in 1984. It was in 1986, also, that computers were first used at North Road.
Still in contact with the Post Office
Nineteen years after retirement, Harry Bennett remains affiliated to the organisation as Honorary Treasurer of the PO and BT Pensioners (Brighton branch). He affirms the advantages of the Post Office's career structure as he experienced it. Gradual progression through the ranks resulted in a sound understanding of the organisation's workings, with a growing loyalty. Promotion was largely based on merit, and the ultimate outcome was an interesting, varied career with a pension to look forward to.