John James Crowe: Brighton's second VC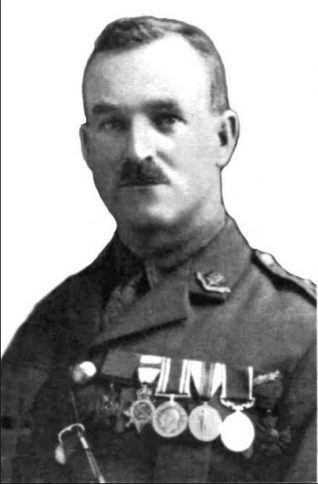 From the private collection of Douglas d'Enno
Awarded in 1918
In late June 1918, a little over a week after a meeting of Brighton Council at which the posthumous award of the Victoria Cross to Ernest Beal was commemorated, the local press reported the award of a second VC for Brighton. The recipient, also a Second Lieutenant, was John James Crowe of the Worcestershire Regiment. Although born in Devonport, his home was in Brighton, at Dudley House, Dudley Road, to which address he and his family had moved in 1916. Crowe's award was announced in the London Gazette of 28 June. The citation is attached below as a Word document.
Rose through the ranks
Father-of-four Crowe was the eldest son of a soldier whose regiment (the 36th) became the 2nd Battalion Worcestershire Regiment. John followed in his father's footsteps by joining the Army on 1 July 1897 and quickly rose through the ranks. At the outbreak of the First World War he was Regimental Quartermaster Sergeant in his father's old battalion and landed with it in France on 15 August 1914.
Twice blown up
Throughout the conflict he was frequently in the thick of the fighting and although he was twice blown up and once buried, he ended the war unscathed. In 1918 he also served as Acting Regimental Sergeant Major for a short time. On 1 April 1918 he was commissioned in the field as a 2nd Lieutenant, continued to serve with the 2nd Battalion and was appointed Adjutant. It was just two weeks later, on 14 April 1918, that he was awarded the Victoria Cross. On 26 May (London Gazette date) he was given the rank of Acting Captain; three days after the Armistice he was promoted to Captain.
21 years army service
In its issue of 3 July 1918, Brighton's Gazette reported 'Another V.C. has been brought to Brighton'  while the next day the Brighton and Hove Society periodical proudly announced that this was 'the second Victoria Cross awarded to a Brighton soldier.'  It mentioned that Crowe had com­pleted twenty-one years' service in the Army the previous week. 'All Brighton is very proud of him. Long may he flourish!'
Retired in 1920
John Crowe retired from the Army on 23 November 1920 and in the following year successfully applied for a position of School Attendance Officer for Brighton, being selected by Brighton Education Committee out of some 200 applicants. After 25 years, in 1946, he eventually retired from his then post of Children's Care Enquiry Officer, having stayed on beyond December 1941 when he could have retired. In 1962, in an article in the Brighton and Hove Gazette, he recalled the time he won his VC, saying 'We were sent into Neuve Eglise, near Kemmel (about six miles south-west of Ypres ) to hold it. We held it for seven days, but only 14 survived out of 250 of us. We captured the German machine guns and recaptured our own.'
Died in 1965 aged 88
From 1960 until his death in 1965 at the age of 88 he was the president of the Woodingdean Happy Circle Old People's Club. After his death, the Club provided a seat in his memory to be put in the entrance hall of Woodingdean Community Centre. Mr. Edwin Billington, Chairman of the Club, who unveiled the seat in the Centre's main hall, said he was 'quite overwhelmed by this wonderful gift.' Captain Crowe's family, including his daughter, Mrs Anne Murray of Rottingdean, were specially invited to the unveiling.