Joan May Garnham (nee Blaker) 1914-1998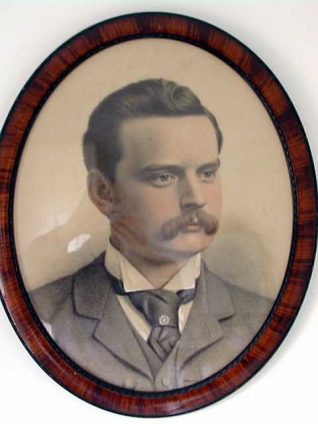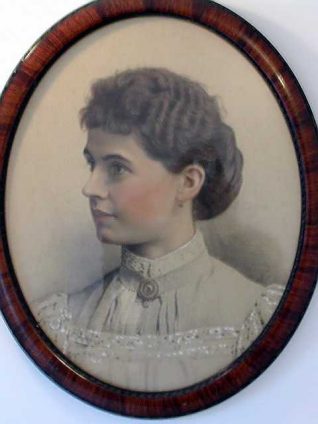 I was born on 28 December 1914 in Brighton, and lived above Marriott's in St James's Street, which was one of the many shops owned by my grandfather.  When my father returned from the war we moved to Cleveland Road.  This was opposite Blaker's Park which was given to Brighton by my grandfather's eldest brother Sir John George Blaker. By the time I was in my teens, I had moved with my family to Surrey.
Visiting my grandparents
Once a year I used to spend a few days with my grandparents, Charles Blaker and Ann Lewis Major, at their beautiful house Bickley, 5 Preston Park Avenue, where the rooms seemed never ending.  Later they moved further up the road to live at 32 Preston Park Avenue.  While I was there I would be taken by my grandmother to Hannington's in North Street, and fitted out from head to toe.  I loved this outing.  One outfit I particularly remember, was a pale mauve dress all swirls & bows, a pale grey coat, a shiny pale mauve straw hat, and black patent ankle strap shoes. I was sure every head turned to look at me.
No one dared speak 'out of turn'
Grandma would sit fussed over by several assistants.  I can see her now, proud, erect, with her silver topped cane, daring anyone to speak out of turn.  She would demand that my old clothes be packed and delivered home. We would then be bowed and escorted out of the shop, to proceed to a coffee shop 'Teegin's'.  This shop was at the top of North Street, and was where we would partake of coffee and cake. On arriving back, Grandma would change her clothes, telling me to wash and when lunch was ready she would inspect my face and hands. 'We may not follow the height of fashion, but we must be lady like' she would say. But fashion or not, she went to Paris every spring to buy her hats, which were so beautiful to see, and she was a very beautiful woman.
My grandfather's businesses
My grandfather owned a chain of grocery stores in Brighton the main one being 24 St James's Street.  This shop was sold to Sainsbury's in 1922, when he retired.  One morning Grandad arrived to find his manager out on the pavement excited and worried, a horse had broken free from a cart, panicked and bolted, smashing into the shop window. Grandad with calm said 'Don't worry,  I've been hoping that ugly window would fall out, now the insurance can pay to have a modern one installed'.
A well respected man
Grandad always went to Havana to buy his cigars, and he had a room specially lined with cedar wood to store them.  He also travelled to Spain and Portugal for sherry and port.  In Preston Park he used to ask the gardeners to let him have various cuttings, and would ask the dustman to look at his roses.  He loved people and would talk to anyone, and everyone respected him.  Although he had two gardeners, he still did a lot in the garden himself.  At the bottom of the garden he kept chickens and he gave everyone of them a name.
My mother, Joan May Garnham, loved Brighton and returned to live there in 1966.
Researching my family history, as far as I am aware, Charles Blaker owned grocery stores at :
3 Victoria Road – 1891 census + 1890 / 91 / 99 / 1901 / 1911 / 15 directories
24 St James's Street – 1899 / 1905 / 11 / 15 directories
29 St James's Street – 1911 / 15 directories
49 Norfolk Square – 1905 / 11 / 15 directories
51 West Street – 1899 / 1905 / 11 / 15 directories
102 St Georges Road – 1911 / 15 directories
103 St Georges Road – 1915 directory as ironmonger
The family lived at 3 Victoria Road – 1891 census
32 Dorset Gardens – 1901 census
5 Preston Park Avenue – 1918 – 1926 Voters List
32 Preston Park Avenue – 1927 & 1936 Voters List