David and Olive Smart: amateur musicians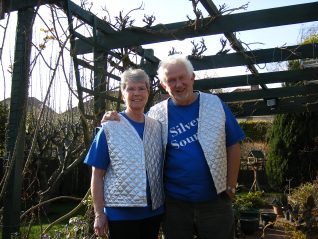 Photo by Sally Ann Clarke
I am a member of the Older Person's City Council and on the day I first went, we went to St George's Crypt in East Brighton.  Afterwards, I heard a band playing, well drums anyway, so I went through into the other room, let myself in and I stood there watching and then, Paul, who's the instructor said "Have you come to join?"  I said "Well, I'm just listening". So he said "We don't have listeners' we only have players here." So he gave me a drum, I sat down, started playing and I was in.
Recruiting Olive
So I went home later that day and said to Olive [David's wife] "I've joined the band, Olive!" And she says "What band?" and I said "The Silver Sounds Samba Band". "Oh."  So I said, "You can come next week", she says "Well, I can't play anything!" and I said "It's easy! There's loads of things like shakers and tambourines and bells and things that don't involve huge physical presence, and they're quite easy to play". So, Olive came the next week and we've been going ever since.
Is this really us playing?
You think, crumbs, you think is this really us playing! And you surprise yourself sometimes. Some days, you seem to play better than others. Generally, the standard of the music that we're playing is a lot higher now than when it all started.
Comfortable, warm and accessible to all
It gives you a sense of well being I think and also it's a bit of exercise and even getting out of your home to go, and making the decision to go on Thursday. You can't just sit in doors and kind of fester, you think it's Thursday and I'm going. When you get there you have a nice time, and it's comfortable and its warm, everything is done for you. You have an instructor and the instruments are supplied. You have a nice cup of tea and a chat at half time and generally speaking it's quite accessible as for buses. … so although it's in what is called the Crypt [St George's Church, Kemp Town], if you can manage steps, there's steps, if you can't there's a lift down. So, it's accessible to everybody.
David and Olive Smart interviewed by Sally Ann Clarke 28th March 2006