Freda Barfoot: band member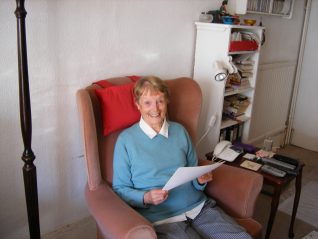 Photo by Sally Ann Clarke
So off we went to Perugia. At four o'clock in the morning, A.M., four A.M.! We assembled down at the pier to get on a coach to go to Stanstead; that's where the cheap flights go from. And off we went. Some people were sitting there with drums on their lap, [laughs] because we can't go any where without the drums.
Glittery masks
It was an old people's gathering. But they loved us in Perugia. We [played] in a big sports place. We had masks on, somebody had made this silver card and there was all glitter on. And then at the end we took them off. I was very happy to go because I spoke Italian having lived for 14 years in Rome.
It's all about the rhythm
As an elderly group we don't march so we're about the only samba band going that doesn't march. I knew nothing [about samba bands]. I knew absolutely nothing. Everybody says "what instrument do you play?" But we don't play music you see, it's all rhythm.
We smile all the time
I sort of feel quite blasé about it really. I ought to know what I'm doing by now. We had somebody there once who noticed that we didn't smile. And we said "We're concentrating." But when we get to play [to a live audience] it's quite different, we smile all the time. Because we have an interaction there.
Audience participation
Paul, [the band leader] likes to bring the people in. We play a certain rhythm and he'll get a group [from the audience], he'll divide it into two groups. He'll get them to clap then he'll go to the other group and he'll get them to clap something different. Then he will signal to us to stop. So they're playing. And sometimes, we have also drawn children in because in the front you get a lot of children who are sort of looking … we have spare instruments we offer the children but some like to have a go and some are just shy. I think that works really very well.
Freda Barfoot interviewed by Sally Ann Clarke on 13th February 2006.