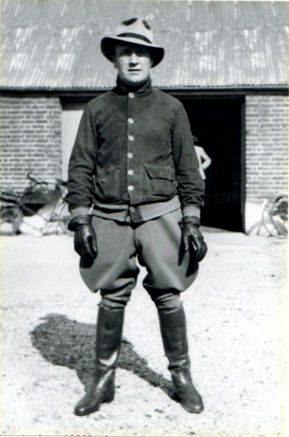 From the private collection of Jackie Cunningham
Brighton racecourse bookmaker
James Dowsett was my grandfather, and one of the 'original' bookies at Brighton Racecourse. My father was his eldest son – also named James, who was also in the business. My father died when I was eight, so only have hazy memories of being taken to my grandmother's beautiful beach front Regency house. My great grandfather had been dead for a number of years before I was born. My mother told me he had fallen asleep on the beach after one too many and died of a stroke (or was it sunstroke!)
Other family members
I have only one picture of my father which is a rather splendid one of him in jodpurs and full riding gear, which is shown here. I remember his brother Dido (although I am sure this was a nickname) and another brother Dickie who had twins. I never saw them again after my father died. I also remember a sister whose name was Letty who had a disabled daughter – I can remember going to her flat when I was small but not much else.
Poignant memory
One of the most poignant memories of my father was of him bringing a tramp home for dinner – his name was Snowy (I assume because he was rather grubby).  Snowy had been quite a famous boxer and I think had brain damage from the sport.  I can remember my mother insisting Snowy went to the bathroom for a thorough wash before being allowed to eat at the table.
Father's conscience?
From my bedroom I can remember the sound of him whooping and laughing as he played with the water whilst he washed his hands.  As a child I just thought it rather strange, now that I understand it brings tears to my eyes. I now wonder if my father felt guilty for taking bets on the sport that caused poor Snowy to be in such reduced circumstances