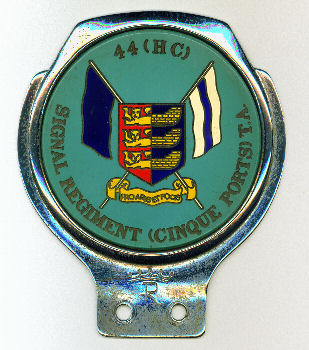 From the private collection of Roy Grant
Surplus artefacts
When I initially joined (1960) elements of the TA were still using hand me down surplus artefacts rather than the most up to date army equipment. In the armoury we had at our disposal, a collection of 38 revolvers; short and long Lee Enfield 303 rifles; a wide range of sten guns that looked as though they had been cobbled together by an urban resistance worker that had formerly been a gas fitter; and a handful of the greatly loved, ammunition consuming, Bren guns.
Comprehensive training
The field radios we trained on before migrating to the much preferred C11/R234 set were ugly looking 19 sets, several of which had initially been destined to be issued to the Russians and therefore had many of the characters (like those for Off and On) in Cyrillic script. Apart from basic military training, field tactics and map reading, we learnt vehicle mechanics, Morse code, how to climb telegraph poles, to install field telephones and teleprinters, and also erect transmission dishes and di-pole aerials. Furthermore, we were paid for our attendances and given an annual bounty, which was generally sufficient to cover my yearly private car insurance and road tax. What a return for giving up just some of our spare time to ride dispatch motor bikes (250 BSA side valve jobs, still with girder front forks) being taught to drive bigger and more powerful vehicles and passing a driving test on them.
Variety of motorised vehicles
I loved driving Austin Champs with 5 forward & 5 reverse gears (why were they withdrawn?) short & long wheelbase Land Rovers, 3 ton Bedford Q or RLs, the enormous Commer Communication centre vehicles, a 6 ton Scammel CV (Command Vehicle) still with its war time semaphore arms operated by a bowden cable across the dash, and a 1 ton stores vehicle affectionately known as "Daisy."  Behind each of these we frequently towed trailers loaded with military stores, batteries or fairly complex army generators.