Wendy Cooper: Music without boundaries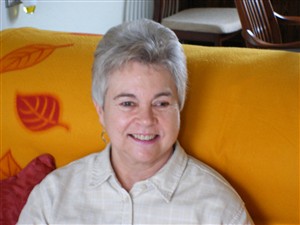 Photo by Sally Ann Clarke
It was a strange happening really; a friend of mine that I was at school with rang me up one day and said "I've got this list of things from the library" and she said,"'There's all sorts of music, there's play readings and", then the penny dropped that I was visually impaired and I wouldn't be able to go to the play reading … then I said "What I'd really love to do is drumming".
Playing the gogo bells
I started off by playing the tambourine … and I thought I'm not really good at this as I can't see particularly what I'm supposed to be doing with it. I've never played one before in my life. And so I started playing the gogo bells. I really enjoy it. It's great. … it's not necessary [to read music] in the Silver Sounds Samba band, so it's ideal for me.
Paul and his whitsle
[The instructor] Paul's got a whistle, and he blows his whistle. Sometimes he hasn't got his whistle, or he sometimes remembers me and he comes over and taps me on my knee or tells me to carry on playing or stop playing or whatever. So I get signals, he sort of pays special attention to me and realises some times that I can't see what he's intending we're suppose to do.  Sometimes the people next to me give me a nudge if I've got to carry on or stop or whatever they might be.
Making new friends
The people are really great, I mean, I've made a complete new circle of friends. They all seem to be there for the same thing, to have a good time and to enjoy the music.
Music therapy
It's a regular habit you know to get into on a Thursday afternoon, off you go to samba. We look forward to it all week. I thoroughly enjoy it.  It just takes everything else out of your mind. You sit there and get absorbed by the music. If you were down before you go you are certainly up lifted by the time you come out. Sometimes I've even gone with a headache, you'd probably think it was the worst time to go and play samba but it goes. You know, it's very therapeutic. You just get lost in it.
Wendy Cooper interviewed by Sally Ann Clarke on 31st March 2006.