Zoe Brigden: aquatic entertainer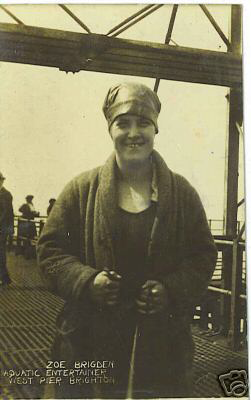 From a private collection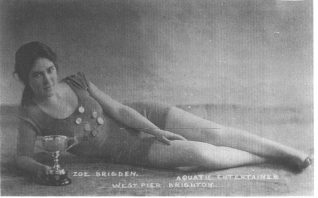 From a private collection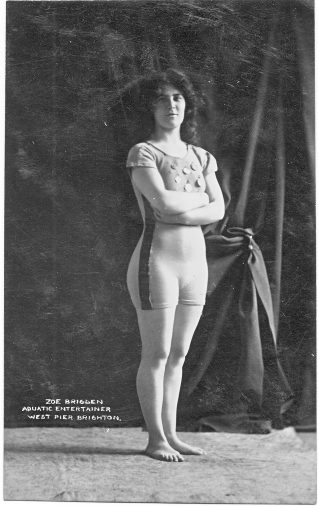 From a private collection
Zoe Brigden was my maternal grandmother's cousin.  She was a well known figure in the area, especially in the early years of the 20th century.  According to local history sources she performed between 1915 and 1924, giving diving exhibitions. She would dive from a high board on the West Pier.  My aunt was told that Zoe would swim from the West Pier to the Palace Pier as well.  I believe she was on of several 'Aquatic Entertainers' and I am sure I found reference to a raft or display platform that was moored near the West Pier and used as part of the displays given.  Perhaps someone else knows more?
Where did all the Brighton Brigdens go?
I only found out about Zoe in the 1980s, when I had started to pursue my family history.  Regrettably she died in 1983 and I wish I had found her sooner.  Zoe's cousin, my grandmother, was Mabel Brigden. Sadly she died in 1914, aged only 27 and there seems to have been little contact with her family after her death.  I have never found any close living Brigden relatives apart from a distant cousin in Birmingham.  I wonder where all the Brighton Brigdens went?
Brigden family in Cuckfield
The Brigden family mentioned spent many generations living in and around Cuckfield.  The Brighton branch came into being when George, son of Thomas and Ann, moved to the town.  Henry (also known as George) was one of at least 11 children born to Thomas and Ann, several of whom died young. Zoe is one of Henry's grandchildren. My line is from his son, Lewis, but Zoe's father was called William, who married Emma Levett (or Lovett). Most of the family were in the tailoring business but William branched out and combined this with undertaking. Eventually the undertakers took over. (No pun intended.) It was William who handled the funeral of my grandmother in 1914.
I have found a few references to Zoe in various publications:-
'Particularly well known later aquatic performers were Walter Tong, Zoe Brigden and Gladys Powsey. Zoe Brigden, from a Brighton family, was famous for her "wooden soldier" dive where with arms at her sides she plunged head first into the sea.'[1]
'After the landing stages were built in 1902, paddle steamers used to call to take people on trips along the coast. In between the landing stages and the main (West) Pier there was a lagoon which was the centre for many aquatic entertainments. There were diving exhibitions by Zoe Brigden and Gladys Powsey, and there was the famous Professor Reddish who used to dive off the West Pier on his bicycle.'[2]
I keep learning more about Zoe but they are just snippets and I live in hope of finding out a lot more about her and the rest of the family. Only today I learned that Zoe had a hairdressing shop in the Whitehawk area – this site is so amazing.
[1] Extract from: Pier's skeleton is still magic.The Argus, 13 October, 2006 accessed on website: http://www.regencybrighton.com/pier/article.aspx?id=183#cooliris 11 Jan 2007
[2] extract from: Daphne Mitchell – Oh What a Lovely Pier on website: http://www.20thcenturysparks.org.uk/page_id__23.aspx#cooliris Accessed 11 Jan 2007