Mr and Mrs Louis Victor La Croix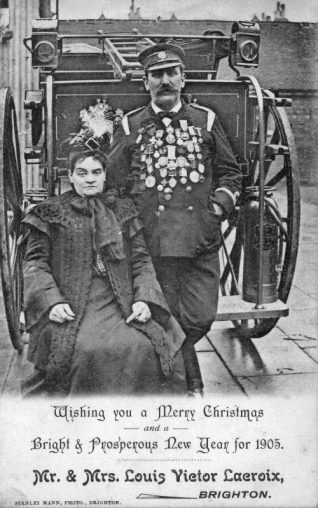 From the private collection of Councillor Geoffrey Wells
19th century fire brigades
In the late 19th century, the police turned out with the town's fires as well as the volunteer brigade and the fire establishment, but after a serious fire in Queen's Road in 1880, an official police fire-brigade was formed at the Town Hall in 1881 under Superintendent Thomas Gibbs.
Re-organised under La Croix
Following several bad fires over a number of years, the brigade was reorganised under Inspector Louis Victor La Croix, formerly of the volunteer brigade, who remained in charge until 1921. (La Croix was, incidentally, the first holder of the mayoral car number plate, CD 1.)
This photograph is one of the very extensive collection of Brighton and Hove images belonging to Councillor Geoffrey Wells, the Mayor of Brighton and Hove. Councillor Wells has very generously allowed us to use the collection here on the website.
Click on the photograph to open a larger version in a new window.