Dorothy Stringer: Mayor of Brighton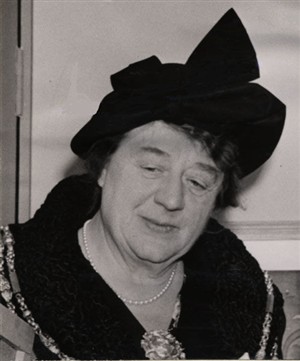 Reproduced with the kind permission of the Royal Pavilon and Museums Brighton and Hove
Dorothy Stringer School
It was very appropriate that in 1955, a new secondary school in Brighton was named after Dorothy Stringer. In her many years of service to the town Dorothy Stringer served for fifty years on Brighton Education Committee, joining it in 1923 and becoming the committee's first female chair.
Service tradition in her family
Born in Brighton in 1894, Dorothy Stringer belonged to a family well known for their contributions to public life. Her father, Joseph Stringer, was an alderman, her mother Emma was a member of the Board of Guardians and a cousin, Herbert Galliers was Mayor of Brighton in 1929. Dorothy followed in her family's footsteps and was elected to Brighton Council in 1933.
Freedom of the Borough
Miss Stringer was elected Mayor of Brighton in 1952 and was awarded an OBE in 1960. In 1968, on the 19th December, her record of service to Brighton was formally recognised, when she was given the Freedom of the Borough, being only the second woman to receive this honour. Dorothy Stringer continued her public service all her life, working on a great many committees into her middle seventies; she died at 77 years old.