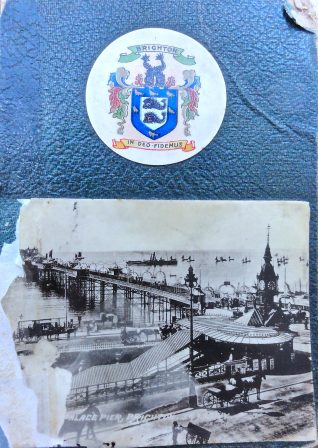 A birthday book
The rather tattered Birthday Book shown in the photograph was a present to a young Brighton woman of the time for her nineteenth birthday in 1916. The book was published by Valentine's, a firm well-known for its postcards so that there are probably better copies of the photo of the Palace Pier, which was affixed to the front of the book than the one shown here.
A sad story
What is interesting as Remembrance Day approaches is that the recipient of the gift was never to marry. It was believed, though she never satisfied idle curiosity, that she had been in love with the brother of the woman who gave her the gift and that the man she loved had died in the First World War. The book has quotations from William Wordsworth's poems on each page so that a casual glance at November (though this, of course, had no remembrance associations then) revealed the following from his Ode on Intimations of Immortality:
We will grieve not, rather find
Strength in what remains behind;
In the soothing thoughts that spring
Out of human suffering,
In the faith that looks through death,
In years that bring the philosophic mind.