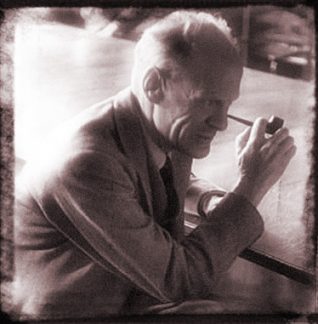 From the private collectin of Stephen Metcalfe
Educated at Brighton College
Gilbert Ryle was born in Brighton on 19 August 1900. One of ten children, he came from a prosperous family and enjoyed a liberal and stimulating childhood and adolescence. His father was a general practitioner with keen interests in philosophy and astronomy that he passed on to his children. Educated at Brighton College (where later in life he would return as a governor) Ryle went to Queen's College, Oxford in 1919 initially to study Classics, but he was quickly drawn to Philosophy, graduating in 1924 with first-class honours in the new Modern Greats School of Philosophy, Politics and Economics.
Lectured at Oxford University
After his graduation in 1924 he was appointed to a lectureship in Philosophy at Christ Church College and a year later became tutor. He would remain at Oxford for his entire academic career until his retirement in 1968. In 1945 he was elected to the Waynflete Chair of Metaphysical Philosophy. With the outbreak of war Ryle volunteered. He was commissioned in the Welsh Guards, serving in intelligence, and by the end of the War had been promoted to the rank of Major. He became the Editor of Mind after G.E. Moore's retirement in 1947; a post he held until 1971.
A confirmed bachelor, he lived after his retirement with his twin sister Mary in the Oxfordshire village of Islip. Gardening and walking gave him immense pleasure, as did his pipe. He died on 6 October 1976 at Whitby in Yorkshire after a day's walking on the moors.
Referenced from: Stanford Encyclopedia of Philosophy http://plato.stanford.edu/entries/ryle/