Jack Wilson: Park keeper in the 1950s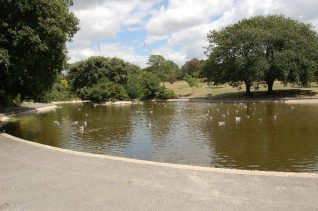 At the end of the 1940s to early 1950s there were two park keepers employed at Queens Park. One was a fairly stout man who we knew at Taffy Newman, an easy going man, the other was Jack Wilson.

Jack Wilson
Jack, whose real name was John Musgrove Wilson, was an ex Bombardier Sergeant Major of the Royal Artillery, and usually seen strutting with his silver topped cane. He also wore two rows of military ribbons on his uniform. Jack did not tolerate any bad behaviour, vandalism or delinquency. He had acute hearing and was able to hear the thwack of a hard cricket ball being hit a quarter of a mile away (using a cricket ball was against the bylaws).
A voice to rattle the tiles
His shout was enough to rattle the tiles on the roofs of the houses in Queens Park Terrace. Jack was never cruel to the youngsters, as his voice was enough to reduce a mischievous child to a quivering wreck.  But he was also a gentle man to whom children could always run to, if in trouble. The park was his, so he would often be seen sweeping the leaves from the footpaths, making the place tidy before he opened the swings. There was no railings around the swings in those days, all the swings were chained and padlocked.
Moved on in 1950
Jack Wilson left QueensPark about 1950 and was moved to Saunder's Park on the Lewes Road, then for a short while to a park adjoining St Nicholas's Church. Later he moved to PrestonPark, and eventually to the Level. Jack retired to Basingstoke, Hampshire, where he finally died.
A war hero
Jack Wilson was a bit of a war hero, first enlisting (under age) into the Royal Naval Division who were similar to commandos, but Royal Navy dry land sailors during WW1. He was invalided out after fighting in the Dardanelles, Turkey, but re-enlisted into the Royal Artillery, and was wounded once again. Regardless of his injuries he remained in the British Army, serving in India on the Northwest frontier, Afghanistan and the Hindu Kush. Jack finished his service in WW2 in North Africa, before returning to complete his career at the Army Records Office in Ditchling Road, Brighton.
My shiny hobnailed boots
I know of Jack's history, because he lodged in Richmond Street, and then he lodged in our house at 29 Windmill Street. My mother became a war widow in 1944 and offered Jack lodgings to help make ends meet. Jack eventually became a sort of guardian to me, and I detested him. I think I had done my National Service before I was 14; and I had the shiniest hobnailed boots in my school.