Cardinal Newman Sixth Form College debating team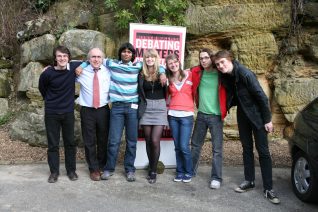 The Cardinal Newman Sixth Form College have won the South East Regional Final of the Institute of Ideas and Pfizer Debating Matters Competition, held at Salomans Campus, Canterbury Christ Church University. The five student team will be travelling to London for a three day national final in July, where they will compete against seven other schools from across the country.
Hard fought debates
After a long day of hard fought debates on issues that included air travel expansion, GM crops, copyright and the arts and access to drugs, the Hove team will not only be representing the South East at the national final, but have also won £1000 worth of resources from Hodder Education for their School Library.  The team also won a year's online subscription to Encyclopaedia Britannica, a copy of 'An Independent Mind', a documentary film by Rex Bloomstein, and a book token.
Individual prizes
Aside from the achievement of winning at the Regional stage, the team also walked away with some individual prizes from judges, who were keen to recognise the impressive contributions made by students throughout the day. John Matthew won the second best individual prize, which included a Skype Starter Pack and a 16-25 railcard and his team mate Andrew Rhodes received an honourable mention for his 'penetrating questions' and 'measured' opinion.
University sponsors
The South East Region of the competition is sponsored by Canterbury Christ Church University, who have been advocates of Debating Matters since its inception. Dr John Moss, Dean of Education at CCCU said 'We are proud to be sponsors of the Debating Matters Competition and are impressed at the dedication of teachers and students show to the competition.'