Brighton milkman 1979: Part II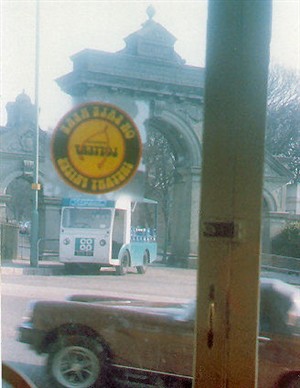 From the private collection of Sherren Hobson
Dream of a round
Of all the milk rounds I did, the 110 round was a dream! I think Spud from the depot must have liked me, because there were even  times when he gave me 'help' on that round. I sometimes got help when it was not even a collection day; it was a doddle. It was right near the depot, so you got an electric float, no question. That meant you could hop on and off both sides. If you had an old diesel van, you were always climbing up and down, on the driver's side. Then you were running round the back to get your pints off; a real pain. Of course, in the winter, on the diesel vans you had somewhere to warm your hands.
All the houses together
But the best thing about the 110 round was that it was all town deliveries. All the houses were together, rows and rows, with their doorsteps next to each other, right on the street. Not like out at Saltdean or Hollingdean, where the delivery book had pages and pages of detached houses, with long pathways to go up. And of course there are gates to close behind you, and miles and miles to walk between houses. Those kinds of rounds take forever.
Complaining residents
And the people were completely different, as you might expect. The residents in the Roedean area were the type of people with a bit of money They were the first to complain if you did not take their one pint all the way up to the house, and put it in exactly the right place in the porch, and close the gate with the extra latch, or whatever. In town, you could just stick down the three pints anywhere you could on the steps, pick up the three empties, and you are already at the next doorstep.
Do you remember your local milkman? Share your memories by posting below
Favourite Cafe
And then, was the Egremont by Queens Park. True, the transport cafe out Rottingdean way was slightly better on the quantities, with more company, but I liked the Egremont best. Fact is, I could do all the Quebec, Toronto, Montreal streets, plus the circle around the council houses; all down Queens Park Road, then decide if I wanted to get Tillstone Street and the two blocks of flats done first, or break off early, and leave them till later. Sometimes, I even did the whole round first, and still passed the Egremont cafe, on the way back to the depot. Magic.
Read Part I here