Maurice Raff: well known market stall holder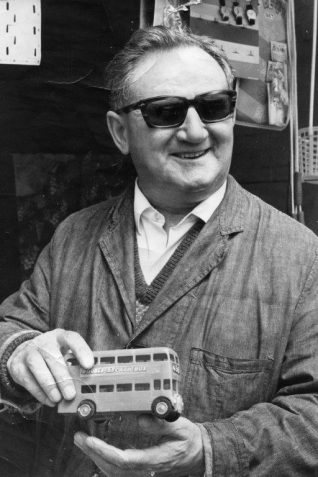 Photo courtesy of The Evening Argus
An extraordinary man
I am Maurice Raff's only surviving child. My Father was an extraordinary man, highly intelligent, wonderful sense of humour, and overcame his blindness in the most remarkable way. I have very vivid memories of those years I spent, as a child, acting as his guide. I would accompany him around Patcham, selling door to door, from a suitcase. He sold combs, elastic, hand knitted cotton dishcloths which were knitted by a totally blind family friend; in fact anything that would help out the meagre civilian blind pension. In the war I was evacuated with him, to Yorkshire, where we had a stall in the local town square market, consisting of a wheelbarrow with a tarpaulin over the top.
The Open Market
When he had his stall in Brighton market days, I helped him there very often. I left Margaret Hardy school the day I was 14 so that I would be able to be with him there more often. He was fantastic, the way he could tell the denomination of a note by holding it between his fingers. He would also rub his finger around the edge of a coin to find out what it was, and it would upset him dreadfully, when someone stole from him. I remember there was a fish stall next to my Father's stall. I think the man's name was Frank Smith, and he would ask me to look after his stall while he went to the toilet or get a cup of tea. I absolutely loved it, weighing up the fish and wrapping it up.
The café and the smelly toilets
I remember the farrier well, the smelly toilets, and the café I would take my father to. He also had a stall in Upper Gardner Street market on Saturdays. Rose, my Mother, was so hard working too, and between them, they managed to eke out enough to bring we three children up without ever going hungry. I left the UK in 1953 to live in New Zealand. I returned home when I could to visit them, and I still, when I am in the UK, go to the market for old time's sake, but unfortunately it is now all so changed.