Roy Carmine Fontana Amerena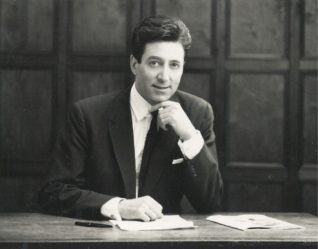 From the personal collection of the Amerena family
Born in 1923
Roy Amerena was born in 1923 into one of the oldest Italian families in Brighton. He was actually born in London, but soon moved to the family home at 6 Devonshire Street, where he grew up with his cousins who lived at number 9 Devonshire Street. Roy's full name was Roy Carmine Fontana Amerena; Carmine Amerena was his grandfather who came to Brighton from Italy in 1889. Carmine played the harp and violin and was the third member of the famous Brighton Street Musicians.
Joined RAF 49 Bomber Squadron
Roy left school in 1937 at 14 and worked at several jobs before deciding to join the local ATC. He studied at night school to learn trigonometry, and when proficient volunteered for the RAF. Roy was dispatched to Canada to learn to fly and train as a navigator. By 1944 as a Flight Sergeant he joined 49 Bomber Squadron based in Lincolnshire. Operational in early 1945, Roy took part in missions over Hamburg and Dortmund. After VE day he was selected to join the crack force IX Squadron in India, leaving in late 1946 as acting Flight Lieutenant. In his younger days his passion had been cricket, and as a star fast bowler in 1940 he was on the selection list for Sussex CCC. The 1950s saw him back at St James's CC; he continued as an active member until the 1970s.
Back in civvy street
In civvy street, seeing the opportunities in the post-war building boom, Roy bought land in Polegate where he built his first houses and began a very successful career in property development. It was during the 1960s he organised the takeover of George Virgo & Sons of Edward Street, and helped persuade the then Brighton Corporation to widen the narrow street to allow better access to East Brighton and the Royal Sussex County Hospital.
First post-war office block
Roy then developed 154 Edward Street into the first post-war office block seen in the town. He was also instrumental in persuading Brighton Corporation to agree to American Express Co. establishing their European headquarters in Brighton. The corporation were not originally happy with the idea, but after 18 months of discussion, Roy's negotiating skills carried the day. A strange twist of fate saw Amex House being built on Boss's Gardens, the Amerena family home where Roy's grandfather lived before WWI.
Died April 2017
Having lived his last twenty years in Steyning, Roy Amerena died in his 94th year in April 2017. He had continued to carry on business in his late eighties, with property development interests in Florida.