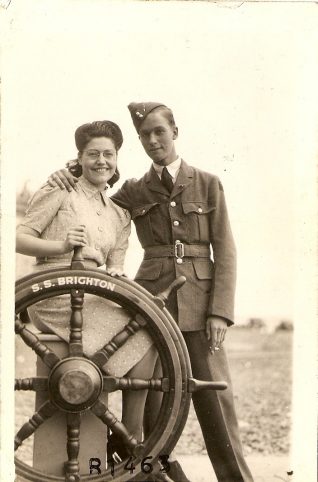 This photo is of an unknown lady and my Uncle Cyril who served in the RAF between 1946-48. I believe the photo shows a beach in the background and assume the S.S. Brighton ship wheel was close to the edge of a beach for tourist photos to be taken.
Commemorating which ship?
There were several S.S. Brighton ships built but assume this wheel is commemorating either the one built in 1928 which sank in 1940 after striking a mine, or the one built in 1933 also sunk in 1940 after being bombed (well according to Wikipedia!).
Photo location?
As Cyril is in uniform I assume the photo was taken between 1946-48 but now challenge time for readers of this site since does anyone know exactly where this photo would have been taken?